by Jack
The publications and news networks that deem it too risky to publish certain news stories, editorials or cartoons, because it might trigger a violent response by Muslims let those that do take all the risks, so says author Mark Steyn.   This is why he holds that the media must suffer some of the blame for what happened to the magazine, Charlie Hebdo.   Paraphrasing Steyn, he says to some degree they've (media) allow terrorism to
put a muzzle on free speech and that's a glaring assault on our values.
LeMonde, the New York Times and major news sources have occasionally sidestepped certain stories regarding Muslims presumably to avoid becoming the objects of their revenge.   Have you noticed that some news networks will never use the words [Muslim] and [Terrorist] together even though the killers were shouting "Allah U-Akbar" as they chopped off heads, gunned down people in a mall or blew up a crowded bus?
This is weak kneed political correctness at its worst and we saw that again at  the Ft. Hood massacre when it was called "work place violence."    We owe it to ourselves to have a little courage and be more truthful.
"[T]he kind of blasphemy that Charlie Hebdo engaged in had deadly consequences, as everyone knew it could … and that kind of blasphemy is precisely the kind that needs to be defended, because it's the kind that clearly serves a free society's greater good.    If a large enough group is willing to kill you for saying something, then it's something that almost certainly needs to be said, because otherwise the violent have veto power over liberal civilization, and when that scenario happens it really isn't a liberal civilization any more."  Comment from Hot Air.
Again, we need to be honest about what is happening in the world, because we're talking about protecting free speech and freedom of the press.  This is about having the moral courage to stand up when those rights are threatened.  And we better do it whether or not we agree with what is being said!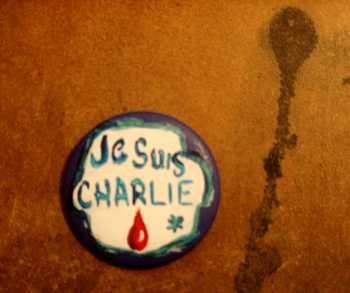 The people that were offended by the Danish cartoon depicting Mohamed or a Salman Rushdie's Satanic Verses, have a right to protest if they wish.    However, peaceful protesting and killing someone over a cartoon are miles apart.   There is no level of justification for killing someone over something they said, that's just insane.
Despite countless atrocities done by modern day Muslims there's still nothing to be gained by vilifying all of Islam.   As difficult as it may be at times,  we owe to ourselves to keep our sense of accountability precisely focused where it belongs, even if our enemy doesn't.
We don't have to be naïve and assume that all non-violent Muslims see the world exactly as we do or appreciate the liberal values we have.  But, if that's the way it and they don't like it, then that's ok too.  Its more important for the greater good to practice tolerance and respect for the opinions of others, even if they are Stone Age opinions.
The Economist wrote the following about Charlie Hebdo, "The magazine had the right to publish everything it did, and French law is right to allow it to. There can be no "but" in that sentence. Even when a picture or opinion is imprudent or tasteless, unless it directly incites violence it should not be banned. Charlie Hebdo lampoons all religions, not just Islam—but it would have the right to single out that faith if it wanted to, just as Islamists in Europe are entitled to denounce Western decadence if they so choose."
As Americans, we more than most, can appreciate the value of free speech and a free press.  So, at the very least, this bloody attack on Charlie Hebdo ought to remind us how fragile those things are and how easily they could be lost.   Presumably, this is why we're all here – to take a stand against Islamic extremism in the strongest possible terms, so thanks for that and thanks for reading…  Je suis Charlie…NOUS SOMMES TOUS CHARLIE!