Posted by Jack
The lack of transparency with her emails, her violation of State Dept. rules, and now her money connection with foreign governments, especially China has raised many questions about her ethics and judgement. Maybe too many, insiders are saying Mrs. C is about to pull the plug on her election bid.
CARVILLE ON EMAIL: In the context of arguing that 1) People don't care much about it, and 2) It's just the latest attack from Clinton's enemies, the former Clinton adviser also offered this not-so-helpful quip.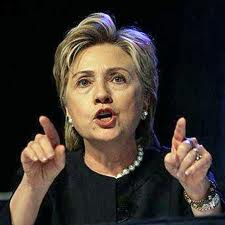 "I suspect she didn't want Louie Gohmert rifling through her e-mails, which seems to me to be a kind of reasonable position for someone to take," Carville said. "Just like everything else before it, it amounts to nothing but a bunch of people flapping their jaws about nothing."
For those unfamiliar, Gohmert is an outspoken conservative member of Congress who often jousts with Democrats. But he's also a member of Congress, which is precisely the body that Republicans are accusing Clinton of trying to avoid with her "homebrew" e-mail server.
Clinton has said using the homebrew account was a matter of convenience rather than an attempt to subvert oversight. Carville apparently didn't get the memo.
INFLUENCE BUYING: The non-profit Clinton foundation has received over $42 million from foreign countries, basically humanitarian reasons, however at least some of that money turned up as a political donation in Israel to the party seeking to oust Benjamin Netanyahu.
The campaign money comes full circle, Rilin Enterprises- pledged $2 million in 2013 to the Clinton Foundation. This is a company that doesn't give something for nothing. They're a Chinese construction and trade conglomerate run by billionaire Wang Wenliang.
Public records show the firm has spent $1.4 million since 2012, lobbying Congress and the State Department. The firm controls a strategic port along the border with North Korea where up to 57% of North Korea's black market goods are smuggled in. They were one of the contractors that built the Chinese embassy in Washington and that only happens if they have a close relationship with high ranking members of the communist party.
That contract is a direct tie to the Chinese government, according to Jim Mann, who has written several books on China's relationship with the U.S.
With "embassy construction, one of the most important tasks is making sure that there are no bugs there," he said. "So you want to have the closest security and intelligence connections with and approval of the person or company that's going to build your embassy."
The Clinton Foundation largely stopped taking money from foreign governments when Hillary Clinton became secretary of state in 2009. It resumed the practice once she left in 2013, but never stopped taking money from foreign companies or individuals.
The Rilin donation came at a time when the Clintons were aggressively raising money and when it was no secret she was readying a run for the White House. It underscores the types of questions the Clinton Foundation and Hillary Clinton's presidential campaign will have to answer as they reevaluate their policies.
"If the point is you are not going to take money from foreign governments, then his construction company is as close to not just the Chinese government, but its Ministry of State Security as they could possibly be," said Mann.
To the medias credit they are all over this story. So, if you want to read more, there's no end of good sources. I gleaned most of the above from http://www.cbsnews.com/news/chinese-company-pledged-2-million-to-clinton-foundation-in-2013/