by Jack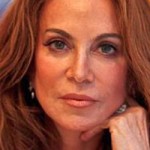 Pam Geller, the organizer for the free speech rally in Garland where two Muslim terrorists were killed, is being labeled by liberals as a provocateur, inciting, baiting Muslims to do violence.   But, lets look at this from another perspective.  If she was a rape victim wearing a mini-skirt, would those same liberals say she brought it on herself because she wore a provocative dress?  Would they say she had it coming, that she provoked the rape?
Why then do some liberals now imply that the terrorist attack on an event organized by the group's president, Pamela Geller, was the inevitable result of her provocation (Muhammad cartoon contest)?
For example, the Daily Mail is dredging up old divorce information on her and accusing her of a long history of hatred for Muslims.  But isn't the hatred of the two shooters more relevant?
Do the liberals want to deny her free speech because some Muslim somewhere might be so offended he tries to kill in revenge?  We've seen that happen in other countries and now we have seen it here, but thankfully this time it happened in Texas where they know how to take care of business.
Geller has garnered national attention in the past by warning that radical Muslims are determined to bring their jihad to America.  She sees the Islamification of America being attempted by Islamic radicals who adhere to strict Sharia law.