Posted by Jack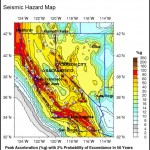 From Live Science. . .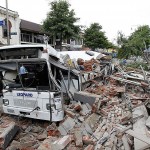 California has had it's share of problems, from floods, to raging brush fires to one of the worst droughts in our time and now you can add another.  Scientists released a report in March of this year that forecasts the near certainly of a Northridge size earthquake to hit somewhere in California within the next 30 years.   However, Northridge was not the big one we've been expecting.    Studies say we have about a 20% chance a 6.0 will hit within 3 decades and there's a greater chance that an 8.0 will hit than was predicted just a few years ago.  A magnitude 8 quake would be twice as strong as the devastating 1906 San Francisco earthquake, a magnitude 7.8.
Draught could trigger an earthquake.  A new study in the journal Nature adds an extra fear factor, suggesting the more water that's pumped out of the ground in the Central Valley during these dire drought conditions, the greater the chance of earthquakes on the nearby San Andreas fault.
"So the idea behind this proposal is, if the ground is sinking, does that sinking cause accelerated movement along the fault? And that might be the trigger to make a fault movement occur," SDSU geology professor Dr. Pat Abbott said.
The new report does not predict when or where earthquakes will strike, nor how big the next quake will be; instead, it provides a better sense of how often earthquakes will occur and how likely faults are to break in the next three decades. This information helps set earthquake insurance rates and building codes in California.
Three of California's recent big earthquakes crossed fault lines: the 1992 Landers quake, the 1999 Hector Mine quake and the 2010 El Mayor-Cucapah quake. The 2007 study had chopped faults into pieces that broke separately during earthquakes.  "We've come to realize that we're not dealing with separate, isolated faults. We're dealing with an interconnected fault system," Field told Live Science.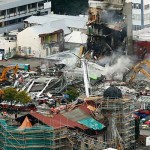 California straddles the boundary between two tectonic plates — the North America and Pacific plates — that have been sliding past one another for 30 million years. Over the millennia, Earth's crust has been sliced and diced into hundreds of faults, forming an interconnected system that resembles a huge, braided river.
Southern California's overall earthquake risk is 93 percent in the next three decades.  "The seismic hazards are higher in Southern California than in Northern California right now," said Tom Jordan, a report co-author and director of the Southern California Earthquake Center. "People in Southern California should realize that the next 50 years are likely to be much more seismically active. The last 50 years are not what we would consider to be normal."
In Northern California, the Bay Area's biggest earthquake risk comes from the Hayward Fault, with a 14.3 percent risk of a magnitude-6.7 quake over the next 30 years. (A short stretch of the Hayward Fault also has a higher, 22.3 percent risk over the next 30 years.)
For more on this story click here and  click here