by Jack
The Lees were an old Southern family and most settled into the State of Virginia, but also North Carolina and South Carolina.   Many personal stories were passed on through the generations about the slave times and the Confederacy, and this is one of them.
In the early, formative years of this nation, my family were plantation owners and they raised primarily cotton.   The Lee plantations  were spread apart along the Rappahannock river, usually by one days ride on horseback.   This was deliberately planned so that in the event of a crisis, no plantation would be without support for more than two days.    In the early 1800's the plantations were the only safe place to run in case of an Indian raid or bandits.
The Lee plantations were using slaves for field work along with a mix of whites, (a common practice in many parts of the world).  Share cropping was also employed and this helped many black families become free and independent.  This latter part was a sign of the changing times, as was improved farming methods, such as Eli Whitney's cotton gin, invented in 1793, but not really developed until around 1803.   Once perfected, it was quickly adopted and made removing cotton seed much less labor intensive.  Also in the early 1800's there were changing attitudes about slavery, not just in the North, but in the South as well.  The US Constitution provided for the end to slavery, but it was removed under great pressure by slave states.   This served notice to plantation owners and others that the days of slavery were not far off.
My grandfather believed that slaves would surely have been emancipated without the Civil War and likely before 1870.   There was just too much going against slavery, including the invention of the first mechanical cotton picker in 1850.   Had this invention been fully developed it would have replaced much of the need for low cost man power, too bad we didn't spend more time and money developing this machine than posturing for war.
When Lincoln was elected President there was already a long standing rift between the South and the North, because of divergent economies, demographics and their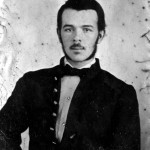 goals and values that were taking separate paths.  In 1860 the North was experiencing a surge in economic progress just as the Southern economy began to slow due to falling cotton prices.   Lincoln inherited a dysfunctional union with its legacy of divergent political positions, not the least of which was issue of slavery!
In 1860, I was told by my family that the South was the intellectual brain-trust of the United States and the most refined and educated young ladies and gentlemen of great wealth came from the South, as evidence by the Southern writers, military leaders, famous lawyers and orators, not to mention the many visible mansions on vast plantations.   This biased opinion was not without some merit, although it may not have been quite so grand as Southerners would like to believe.
The North, although thriving, was still viewed as a blue collar society backed by a growing industrial power.  Thus there was competition and division on many levels between North and South, especially when it came to dominance in government.
Lincoln's election was seen as another political loss for the South and worse, a threat to the Southern way of life.  History teaches us that Southern culture was a bit too prideful and arrogant for its own good.   Now the Southerners were closing ranks out of fear and anger over issues with tariffs and slavery.   Part of this fear came from Nat Turner's Slave Rebellion where slaves killed about 60 whites, the largest mass killing ever experienced in the South prior to the Civil War.   This was still fresh in the minds of Southerners when Lincoln took office.
Obviously the Southern Democrat States overreacted to Lincoln's Republican election, but had they not and lets say they allowed a political resolution to the States Rights issues and slavery, it may have taken another decade, but these issues would have been worked out.  The South still had plenty of power in Washington, even with news states coming on board.   It's too bad the South pressed for secession because over 620,000 men would eventually be killed in our greatest struggle to date.  This was our nations greatest loss of life in any war we fought up to present day.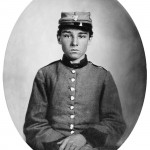 The Civil War was a great regret often expressed in my family that suffered more than most during this war.  My direct family line lost thousands of acres of prime ag land, crops were seized/destroyed, and most of the grand old plantation houses were looted and burned to the ground.  Even the family steamboat, loaded with cotton for export, was seized.  No indemnification was ever received, despite a written order that promised repayment after the war.   Congress approved repayment, but they never got around to appropriating the money.   Our line of the Lee family was absolutely decimated by this war.
After the Civil War a number of former slaves wanted to stay with our family, we would like to think this was a testament to how they had been treated and loved as part of the family.  (There's a lot to this part of story that's hard to understand today and one that I don't have the time to explain)  My great-grandfather set out to North Carolina to rebuild.  He started the first lumber mill in Caswell County.  The need for a mill was desperate in this reconstruction period and he went from near broke to the single wealthiest man in the county according to the US census.
One of his sons later moved to Oklahoma where he name his new estate Cotton Valley and he started raising cotton once again.   Cotton Valley was undeveloped land until Ferdinand Lee arrived.   He did well with cotton, however this didn't last long because Cotton Valley sat on top of one of Oklahoma's richest oil fields.  Soon after the discovery of oil, the federal government seized the land because of the need to secure a dependable source of oil for the new industrial economy.   The land was nationalized and Ferd and a few other family members were forced out of business once again by Yankees.   As the story goes Ferd wasn't particularly adept at handling money and the money the federal government (minimal) was soon spent.
The last of the former slaves died on land willed to them by my great grandfather who died in Caswell County,  North Carolina.  We have this evidenced by a will that specifically called for the caring of one black family so they would not want for anything in their retired years.
Our family view of Southern history, State's Rights and the issue of slavery seems to be fairly common among the places I've visited in the South.   It also seemed that most Southern folks were very open to discussing these issues and the changes since the Civil War.  A few seemed guarded with their answers because I was a stranger and from the North (California), but once they learned I was a decedent of the Lee family, all that changed.  To this day it is considered bad form to say anything critical of "Bobby" Lee, that would be a good way to get beat up.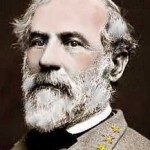 Our family sees the old rebel flag as a symbol heritage and history, not hate.   Others can see what they want, but for this old Southern family, well, all we see is what is in our hearts.  The Confederate flag is just another symbol from our past that helped shape who we are today.
The Civil War was a great tragedy, almost beyond measure, but the pride felt in being part of the South is still alive.   As to the issue of slavery, well, that was acknowledged as a wrong and so much has been done to improve race relations since those times.   Many Southerners knew it was in need of changing before the Civil War began, and my ancestors felt it was only going to be a matter of a few years and the end of slavery would have come about without the war.   The world was changing and there is no way it could have been otherwise, slavery was coming to a close.  But, lets not lose sight of the fact there were also slaves in the North and some free black farmers also owned slaves.  So, if a revisionist is looking to point blame there's plenty to go around.
For more clarity on States Rights it's helpful to read about the Articles of Confederation.  Another helpful site defines the reasons for the Civil War.