by Jack
Lockheed-Martin has been developing the next generation fighter, a stealthy jet dubbed the F35, but in it's first dog fight against a 1970's jet, the F16, it lost! 
The test pilot reported, "The F-35 was at a distinct energy disadvantage."  He had no problem filling 5 pages with scathing criticisms about the new 5th generation fighter jet.
F-35 test pilot said new plane was too cumbersome to dodge enemy fire
He deemed it totally inappropriate for fighting aircraft within visual range
The test pilot's report is the latest evidence of fundamental design problems  — which, at a total program cost of more than a trillion dollars, is history's most expensive weapon.  It has already cost the over $350B and it's no where near completion.  To date its been totally unsatisfactory in air to air combat.
The U.S. Air Force, Navy and Marine Corps — not to mention the air forces and navies of more than a dozen U.S. allies — are counting on the Lockheed Martin-made JSF to replace many if not most of their current fighter jets.
And that means that, within a few years, American and allied aviators will fly into battle in an inferior fighter — one that could get them killed … and cost the United States control of the air.
The much less expensive Russian SU-35 known as the "Pinnacle" has been grabbing headlines after a stunning performance at the Paris air show in 2013.  It's believed to be the best fighter on the market, but at a big price…between $45 and $65M per unit.   That's still less than the dodgy F35.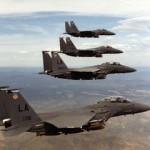 One wonders why we are spending a trillion dollars on a new fighter when the F-15 Eagle is a better plane than the F16 that defeated the F-35?  The F15 (shown left) is very close in overall performance to the Russian SU-35, it may even be a bit faster, but it also has the  edge with advanced avionics and longer range missiles making it the likely winner in any dog fight.
Back in the mid 70's, the first Eagle broke eight time-to-climb world records.  It reached an altitude of 98,425 feet just 3 minutes, 27.8 seconds from brake release at takeoff and coasted to nearly 103,000 feet before descending.   That amazing record still stands!
Eagles flown by Israel's air force were the first to face a true adversary in the air. They downed more than 50 Russian built Syrian fighters with no losses of their own. In service with the U.S. Air Force, the F-15 Eagle downed the best MiG fighters during the Balkan conflict and the majority of Iraq's fixed-wing aircraft during Operation Desert Storm.   Retrofitting and upgrading the F15 would be a fraction of the cost to develop a whole new fighter.
Many in Washington are wondering why are we in a frenzy for a 5th gen fighter when the threat to citizens is coming from unhinged Muslim radicals in Al Qaeda,  ISIS and their homegrown counterparts?
Note:  The F15 was expected by experts to remain a dominant fighter until at least 2030, but with refinements, it's life span may be considerably longer and still remain the top dog.