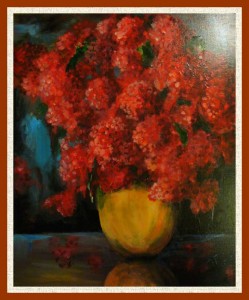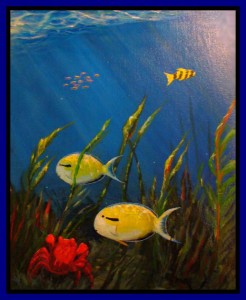 Just finished these two in the past week.  Both are acrylic on canvas, 18 x 24.  The flowers were done on a 19th century sort of style, very traditional, subtle, but with a splash of blue background from a customized mix.  I did this so to make it more unique.  To me, the blue just jumps out, I really like it.  The painting is covered in three layers of clear to give it an oil paint look.
Oh, I almost forgot to mention, there is texturing done on both painting, can't be seen in the photos very well, however it gives the paintings a thick look.  Again, I did it to make them unique, but a side effect is they are almost impossible to reproduce without direct contact, as in seriography.   Then again, why would anyone want too? lol   It's just beginners art, and its not like these are ever going to be worth anything.  But, if you ever decide to own one, you will at least have the satisfaction of knowing its one of a kind.
The flowers painting was a project done for my art class at the McShain Studio in Chico, CA.   The other was done at home from scratch, no photograph or painting to work from, just my imagination.  I had more fun doing this one than I do with most other types.
One of these days I am going to find better lighting for the photos so you can see all the colors.   A regular light bulb just doesn't pick up color very well and then there's the glare.
I wish I was younger so I could have the time to develop this hobby to a level where I'm satisfied.  As it stands now, I think these are very elementary paintings, done just for learning and fun.  However, there have been a few paintings that I did this year that just came together better than I could have ever expected.  Ferguson Rioting and New Orleans at night are two examples of that, both totally different.   (I guess if you get enough times at bat, you're bound to hit a home run) eventually.
As usual all comments, good or bad are welcome.  Thanks for helping me learn.   You can double click on the paintings to make them larger.  -Jack