by Jack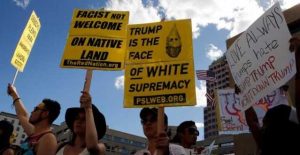 Aside from the adult-kids playing anarchist and throwing rocks at cops and windows, guess who was behind the protest signage and organizing of the really hard core protesters?
Right, you guessed it.  It's the old communist party in disguise of new socialists.  These tyranny brokers are still here and they still adamantly refuse to accept that capitalism is infinitely better than communism.   But, they have a whole new generation of suckers to play too, thanks to immigration issues and race-card exploiting.  Anytime their are people who think they are victims you will have communists willing to reinforcement that and tell them why they are victims!
Oh sure, the call themselves socialists, but a horse's patoot by any other name is still a horse's patoot.   If you read the propaghanda at their websites they make it pretty clear they are really nothing more than updated communists.
Take a look at this protest organizer site, click here.  Here's another, the Red Nation.
During the cold war the communists always attached themselves to things like labor movements and used racism allegations to divide and conquer. Well, they're still at it and little has changed.  It's amazing how gullible some people can be.
"Protesters threw rocks and bottles at police officers who responded with pepper spray outside a rally for presidential candidate Donald Trump in Albuquerque, New Mexico, police said.
Hundreds of protesters tried to storm the convention center in New Mexico's biggest city, knocking down barricades and throwing objects at a door and then hurling rocks and bottles at mounted police in riot gear, the Albuquerque Police Department said on Twitter on Tuesday and video posted online showed.
Several police officers were injured, the police tweeted.
Protesters chanted anti-Trump slogans, held anti-Trump signs and waved Mexican flags before the demonstration descended into chaos with some protesters standing on top of police cars." Reuters
Question: How does damaging public/private property, hurling stones, damaging police cars and waving the Mexican flag endear Americans to the cause of poor Mexicans trying to sneak in to our country?
I really think they need to rethink their strategy, because they are only picking up votes for Donald Trump. Their actions support exactly what Trump is saying about deportation of illegals causing trouble here.