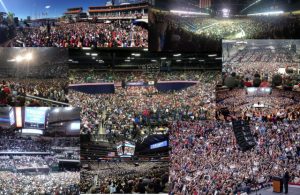 Posted by Tina
An article at the Breitbart inspired Conservative Treehouse caught my attention tonight due to the title alone, "Over 1.5 Million People Have Personally Attended a Donald Trump Rally…".
But it was the pictures that gave the title that wow factor.
Trump IS a work horse:
Donald Trump is averaging a massive campaign rally every 46 hours, for over a year straight
And once elected he will work just as hard to Make America Great Again for Everyone!
More commentary at Gateway Pundit
Remember how the media gushed when Obama attracted such crowds? Are they gushing now or doing everything they can to discourage you from voting for Trump?
Click on over to The Conservative Treehouse, Last Refuge, to get the full impact of the pictures. (The source for the photo used above)