by Jack
As this presidential election comes to a close, what have we learned? Speaking only for myself now, but I've learned that the American voter is  disgusted and frustrated with Washington. It would be safe to say, the great middle of democrats, independents, greens, libertarians and republicans feel that Washington is corrupt and incompetent and serves themselves before us.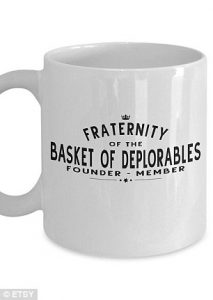 In the beginning many of us wanted to take a chance on a wild card candidate like Trump, than elect one more career politician.  We hoped it would send a message to the rest of them, that being, "Most Americans would sooner trust a used car salesman over a Congressman."
Another thing I've learned in this election is, there's no bar too low for Hillary's democrat operatives.  They will lie, cheat and break the law in order to reach their goal.  nothing they do would surprise me now.
The evidence is out here now,  thanks to leaked emails and Project Veritas.  Democratic operatives paid people to start fights at the scene of Trump's speeches and then use those incident to blame Trump's rhetoric.   Clever,  except this is voter intimidation!  It undermines our democracy and it's absolutely wrong – wonder why these democrats couldn't see this?
These same operators now help register illegal Hispanics to vote for Hillary.   There's millions of them here – so the temptation was too great to resist for these ethically challenged people.  Their sales line is, voting for Hillary will help them stay in America and get citizenship.  Meanwhile, they are calling Trump an evil racists who would throw illegals in jail and deport them, even if it meant leaving their children behind.
I've learned only recently why it was absolutely necessary for Hillary to have a private email server, something the FBI was unable to do after thousands of hours of tedious investigation!   This is a complicated story, but I'll try to give you enough to make some sense of it.   Hillary needed a private server to do her dirty deals outside the government system that she was violating.
Why couldn't the FBI figure this out? Well, they probably did, but because most of the evidence was destroyed right after Congress issued a non-destruct order to preserve it they didn't have enough to prove their theory.  But, now we're getting the leaded emails and they tell it all and even implicate the FBI is one deal with Hillary operative, Patrick Kennedy.
The Clinton team didn't know is their server was hacked by the Russians and they had copies of everything, even the missing 32,000 emails!  So, they were unprepared for the revelations of guilt!
Of course Russia couldn't come forward and admit to this cyber crime, so they had to use a third party to reveal it, Wiki-leaks.   Those leaked emails show that Hillary used her position in the State Dept., to sell access and sometimes to sell favors, while also using the Clinton Charitable Foundation.   Thus, the Clinton foundation received millions of dollars from unfriendly sources in quid pro quo deals.  
The Clinton's personally profited in ways most of us couldn't understand because their accounting is tricky, complex and devious, but the short explanation is money equals power, power equals money and they received both in boat loads.  Hillary and Bill have accrued over 100 million dollars since he left the White House, and after claiming he and Hillary  were basically broke.  Yes, Hillary leveraged off her Secretary of State position to garner the maximum dollars and power that she could.  I came in  campaign donations, in-kind contributions, speaker fees or directly to Clinton's non-profit charity contributions.  Her fingerprints are all over the money.  This dirty money and usurped power has filtered back into her bid for the Presidency and she is ready to become our next president.
In the race to the White House Hillary and Bill coerced the Attorney General of the United States into giving Hillary a pass on lying to congress, destroying evidence, corruption in office, and extortion.
Somehow the Clinton's managed to manipulate the Director of the FBI, James Comey too. He took a dive when he failed to request a complaint against Hillary, and this was after he admitted to the American public that Hillary had indeed lied about her handling of classified emails, lied about the destruction of evidence and lied the email server and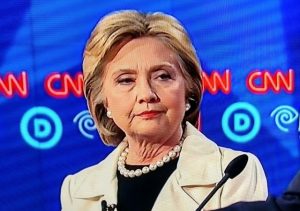 multiple cell phones she used in her diabolical plan to skirt the government's secure system.    However, we were never told why Director Comey would not seek a complaint, he just didn't. There seems no fathomable reason why and that makes me think bribery or extortion.  This was especially suspicious in the wake of the Petraeus conviction for a single count of mishandling classified material just a year earlier.
I could write a few more pages detailing more of Hillary's transgressions, but if you don't get it by now, chances are you will never get it.
Donald Trump was no Saint either. But, Trump has been his own worst enemy  in this race.  I know he's not going to be president.  Sadly, any of the GOP primary candidates could have beaten Hillary by this point.   So, what's the point of beating up Donald? There is no point.  But, at least what you see is what you get. As flawed as he may be that much he has going for him.   He speaks exactly what is on his mind, even if it gave ammunition to the Clinton campaign and it sure did.  I've never seen a race like this one, the Donald made so many blunders it would have been comical if it were not so sad for America.
The Donald said the media was conspiring against him and many of us laughed at him. But, in a peer poll it was found the out of 450 news anchors, all but 50 were democrats and most had given to the Clinton campaign.   Still laughing?   Read on:  "The New York Times' media columnist, Jim Rutenberg, penned a recent piece suggesting that biased news coverage of Donald Trump, at the Times and among other mainstream media, is justified and rarely observed in the context of other partisan or ideological issues.
Rutenberg's claim is that because Trump says things that are rude, politically incorrect, or debatable, and "conducting his campaign in ways we've not normally seen," there is no need for news reporters to treat him to objective reporting."
Is this absolute proof the mainstream media was against Trump? Nah, but I've witnessed how they reported.  Trump got the worst of it and Hillary's corruption often got a pass.  So no need to convince me the media was biased.  You may feel otherwise, but that's how I saw it.
This has been in many ways the worst election of a president in modern history.   It's been divisive, it's been racially charged, filled with lies and dirty tricks.  If we thought America was in trouble before, there is no doubt anymore.  We're in serious trouble.  To make it worse, the Republican Party has virtually no spine left.  They have capitulated to the Democrats on every important issue.   They have let down their voter base once too often and they have destroyed the GOP because of their own timidity and ineptness.
This is what I have learned… how about you?