by Jack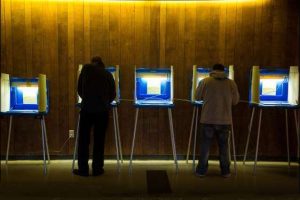 "A vote is like a rifle: its usefulness depends upon the character of the user." – Theodore Roosevelt
___________________________
If Donald Trump loses this election he will have been defeated by himself, not Hillary Clinton.  The same could be said for Hillary; had she a shred of honesty, her numbers would be surging ahead of Trumps by now.  Which is why most voters would rather have a do over than elect either of them.  If Trump stages an upset and wins….well, you need to read my next article coming out this evening.  I think you will agree with most of it!
But, whatever the final outcome today, there will be a few reasons to celebrate.  (see above quote).   We will have either elected a life-long liar and crook or an inexperienced, blunt New Yorker, who has said a lot of stupid stuff.   Personally, I'll take the bluntness over being fed the liberal Pablum we're so accustomed too.
Whoever wins, the nation will still be divided by race, immigration and class warfare, and that will be a great challenge to overcome.  Being a pessimist, I think few things will change for the better, because of partisan politics and the many hurdles "good ideas" always face in Congress.  I can only hope a Trump presidency would light a fire under these do nothing dopes…I have no hope Hillary would.
"Elections belong to the people. It's their decision. If they decide to turn their back on the fire and burn their behinds, then they will just have to sit on their blisters." – Abraham Lincoln
However, here's one key element depending on who wins, the future of the Supreme Court will be shaped for next 30 years.  So, the big question is, will the S.C. be slanted towards activism, interpreting the Constitution according to the times or will they vote a more conservative interpretation? Another reason to hope Trump gets in!
Also at risk is the GOP controlled Senate. The Republicans have 24 seats up for re-election, the democrats just 10. An unfavorable presidential turnout could weaken their chances, especially in the 10 GOP seats that are hotly contested. 2016 could be the year the GOP loses the Senate, but given their performance would anyone really notice?
The Washington Post opened with a summation early this morning, "In Michigan, the GOP nominee blasted his opponent as embodying Washington's corrupt culture. In North Carolina, Clinton said the election would be "where we prove conclusively that, yes: love trumps hate."
By noon Tuesday, voters across the country were making their choices. In North Hollywood, Calif., some voters brought beach chairs to stake out a place in line before dawn. At one polling station in Detroit, people waited up to 90 minutes to reach the ballot booth.
At Stonewall Middle School in Manassas, Va., nearly 170 people were lined up when voting began at 6 a.m."
"America isn't ready for President Hillary Clinton. It should never be." – Chuck Norris
Historically a large voter turnout tends to favor republicans, because younger voters and minorities are largely registered to vote democrat and this demographic has not been persistent voters, whereas the smaller, but more dedicated GOP voting block are.  They are steadfast voters, come rain or shine!