by Jack
Once again liberals prove they are hypocrites.  Their actions in Berkeley proved to the world that they are just another form of book burning Nazis.
Last night in Berkeley, a controversial right-wing speaker (see video below) prepared to
deliver his speech on campus. Outside activists gathered in black robes and masks. They were obviously hiding weapons, bats, rocks, etc., under their clothing.  And as they got close to the auditorium where Milo was about to speak, they unleashed a torrent of rocks and started destroying property.  Some fires were set, a few buildings were looted and not one arrest was made. How is this possible? They did these crimes right in front of campus police and the Berkeley police.  Ah, but both are known as ultra-liberal departments.  So these monsters got away with it.   Ironically, one of the looted places was lefty Starbucks. It was totally trashed.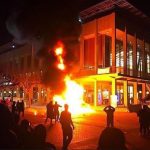 It seems to me that liberals are all about free speech until you disagree with them!  Then they become bullies and they will beat you down to silence your opinion. History is filled with these hateful, intolerant people.
No doubt this Berkely mob would have felt right at home during Kristallnacht in Nazi Germany, when the Brown Shirts smashed out the windows of stores and terrorized their Jewish owners.
Nice performance you mean spirited, foul mouthed, liberal punks. Your actions will live on in infamy as an example for all to see. It's one more reason why America is rejecting everything you stand for and why we have Trump in office. What a shameful attack this was, and on our most basic right afforded by the Constitution, our First Amendment.