by Jack
Chico, like many other cities, is suffering from a very costly invasion.  What began as a mere trickle has grown into a full on flood of… "homeless."  Latest estimates for the homeless population are in excess of 1,100.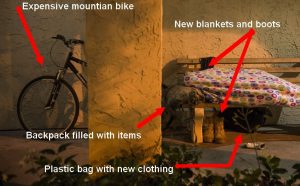 Homeless means anything from drug addicts to criminals on the run.  Oh sure, it also means people who have truly fallen on bad times despite trying to work and be a good member of society.   I'm pretty sure they are minority, just like the mentally ill who didn't get that way do to drugs.  The rest are there for us to deal with and pay for.
I'm not sure if this is good or not, but our homeless are the richest poor people  in the world.  Seems like they can afford booze, drugs, tattoos, excellent bicycles, camping gear, cell phones, etc., thanks to your charity or their larceny.
Even worse than this invasion of the messy masses are the antiquated laws that protect them and do little or nothing to protect us and brother are we paying thru the nose for absurd laws.
Mostly this is chronic theft and property damage, but sometimes there are assaults, especially from knife attacks.  Attempted murder or murder by homeless are also on the rise.  The latter crimes have soared in recent years and this comes at a huge cost to the taxpayers too.  But, generally its just the daily thefts that keeps chiseling away at the health of our businesses and our community.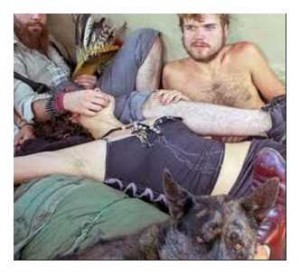 This is why I say the homeless problem has become acute, at least in the local retail sector.  As one Chico store manager put it, "Store losses, we call it [shrink], runs anywhere from $300 to $500 per day."  (That would average about $146,000 a year from just one business.  Eventually, the shoplifting costs are passed on to the customer. )
On a one to ten scale, ten being the worst, I would say this problem is an 8.  We're being hit hard every day because we are a convenient target.  We're located close to Bidwell Park where the homeless congregate." Anon. mgr.
He said the assistance from police has been and I quote, "little to none." ( I have to interject that I've heard this complaint many times from the merchants who own or run shops in the downtown.  The most common line is, Police? Pffft…why bother? )
The store manager agrees and says, "In one case he called the police to report this homeless guy that just stole 6 bottles of liquor.  The police officer said they didn't have anyone available, but if they see him, they would let us know.  He really said that, they would let us know."  Of course they never did.
The manager said they have a loss prevention person, but most of the time, if they spot a thief they're lucky to just recover the merchandise. They can't forcibly detain or arrest anyone.  This is store policy in order to prevent a costly lawsuit.  This store and many like it, are caught between the threat of horrendously costly civil suits (filed by homeless advocates) and the criminal laws that now unintentionally favors the criminal instead of the victim.
The law says the homeless have a right to sleep on the sidewalk or beg for money.  There are no more vagrancy or loitering laws or failure to identify laws.
The sheer size of the new homeless problem speaks to an even greater problem looming in the future.  What we are witnessing may be the first signs of a major decline.   The homeless issue is but one part of our nation's sinking future.
Well, no civilization lasts forever and democracy is known to have a short life-span, typically 200 years.  We are well past that expiration date and I believe we're witnessing the symptoms of a long slow decline.

If you can stomach it, there's more you need to know and this comes from a report done the by Washington Post in 2016:
Between 2011 and 2014, the National Law Center on Homelessness & Poverty found that bans on sleeping in cars shot up 119 percent, citywide camping prohibitions jumped 60 percent, anti-loitering laws increased 35 percent and anti-begging laws increased 25 percent in a survey of 187 cities.
Similar legal fights are playing out across the nation as the homeless challenge anti-panhandling ordinances, anti-camping laws and the seizure of their belongings in sweeps.
In Virginia, more than a dozen homeless alcoholics represented by the Legal Aid Justice Center sued the state's prosecutors in March, claiming Virginia's "habitual drunkard" law criminalizes addiction among those on the street and violates their constitutional rights.
A man down/drunk 9-1-1 call costs us about $3800 for police, ambulance and E-R treatment.  Just one chronic drunk can easily cause over 200 9-1-1 calls a year.  That costs you $760K in emergency healthcare dollars, and limited resources diverted to the habitual drunk.  Is this a Constitutional right?  Think about that while you sit waiting in the ER with a broken limb, while some homeless drunk arrives in an ambulance and gets priority service.  
The law allows prosecutors to ask the courts to designate someone a "habitual drunkard" if they have been shown to have a drinking problem. After the designation, the person can be jailed if they are caught with alcohol. Prosecutors say the law keeps drunks off the street. They have used the designation in more than 1,200 cases in recent years.
In Hono­lulu, a group of homeless people sued the city last fall, after what the mayor called a "war on homelessness" prompted by complaints from residents and tourists. The city passed a law banning sitting and lying on sidewalks, closed parks at night and dismantled one of the nation's largest homeless encampments.
The lawsuit accused the city of illegally trashing medicine, identification papers and food storage during the sweep, leaving homeless children hungry. A settlement was recently reached that forbids the city from seizing certain items.
The homeless have also challenged broad anti-panhandling laws in Springfield, Ill., Oklahoma City and Sacramento County, Calif., on grounds it violates freedom of speech. Some locales have altered their laws in response."
CHICO TRIED MANY THINGS TO DEAL WITH HOMELESS PROBLEM:  We've tried enlarging the Jesus Center, we've built a second shelter with even more beds.  And most recently we offered the roaming Ambassador program that we were assured would help a great deal.   In this program trained volunteers walked the streets requesting the homeless to be good citizens.  For example, use restrooms, don't litter, don't camp in public, don't bath in the public fountains or sleep drunk on the sidewalk.
The homeless were given meal vouchers and  informed where they could seek assistance from a number of private and government agencies that provide free food, free meals, free healthcare including psychiatric care, free counseling, emergency money, free legal assistance, free shelter and other forms of free assistance, including work training.
The hope was this would greatly reduce thefts, vandalism and other criminal behaviors that overburden local law enforcement.  It didn't, in fact it seems offering more assistance to the homeless only caused the problem to grow…one new bed equals 10 new homeless arrivals.
Of all the Chico merchants I spoke to, both along Mangrove and downtown, there seemed to be a general agreement that the only solution left is to get tough.  Most would like to see armed security guards around the stores, not to harm anyone, but to intimidate the criminals into avoiding their stores and make customers feel safe.
They would like the Chico police chief to do more too.  From local merchants to local ministers, they all seem to think the police are not really interested in dealing with this mess.   The officers I spoke to said they want to do more, but the chief has not been supportive of their initiative, so they've back off.
Nobody, not the City Council, the Police Chief or any of the homeless groups has a viable answer to this problem.  Given the current laws, the division between liberals and conservatives and the army of lawyers eager to sue the pants off cities and businesses for violating the rights of the criminals…well, it looks like we're just screwed.