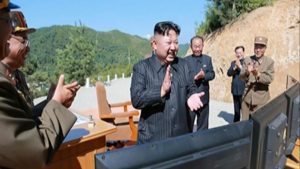 Posted by Tina
North Korea successfully launched a new type of ICBM with a range of 4,160 miles and the potential to reach Alaska. Little Kim's solute for the 4th of July perhaps? The test posed a potential danger to Alaska, Japan and South Korea. Since NK failed to coordinate the test with the international community it also posed a threat to airliners and ships.
The US observed as the missile was fueled and launched and chose not to shoot it down but the Pentagon condemned the launch as "escalatory and destabilizing." Navy Captain Jeff Davis told a news briefing that the ICBM was "fired from a mobile launcher and confirmed the presence of a re-entry vehicle on top of it."
The Washington Post gave a big assist to our international relations by blaming all of this on Trump: "Missile test underscores the failure of Trump's naive approach to North Korea."
Right…because previous presidents didn't "naively" pave the way.
July 2015, Hot Air, "Media flashback: Clinton's nuclear deal with North Korea"
January 2016, , NY Post, "You can thank Jimmy Carter and Bill Clinton for North Korea's nukes"
January 2016, Politico, "Hillary's North Korea problem-Her 'strategic patience' didn't curb the rogue nation's nuclear ambitions — but neither did any previous policies."
The Iran deal was also naive and foolish. North Korea is allied with Iran, a nation as eager as NK to taunt and embarrass the U.S!
The problem for any US president is that these are regimes can;t be trusted, period. One is led by religious/political zealots with the arrogance to believe they should rule the world and the other led by an adolescent arrogant nut who imagines he's big and tough. There is no way to negotiate with such people. We go through the motions so we can say we gave diplomacy a try but in the end it always depends on how far they will go after we've blunted their toy making capabilities with sanctions.
Our media is naive and a danger to America.
Sources: Fox News