by Jack
You would have to be a complete fool or have some sinister hidden agenda to oppose No Sanctuary for Criminals Act, HR 3003.  This bill will ensure that American taxpayers are not subsidizing sanctuary States and localities that thwart Federal law enforcement efforts.  The bill will restrict their eligibility to receive certain Department of Justice or Department of Homeland Security grants and provide for more aggressive detention of criminal aliens.   Of course… Democrats oppose HR 3003, because they play hardball partisan politics.  Seems to me that they care less about doing what is good for the nation, and more about placating their Hispanic voters.  Any legislation that might make Trump and conservatives look good is definitely off their agenda.  It's all about partisan advantage for them.
Tensions rise over North Korea's long range missile testing.  Their history for developing and testing nuclear bombs matches precisely with the threatening statements they've been making to us.
Consider… for the last 60 years the North Koreans have brainwashed their people to hate America beyond all reason.   70-80% of their economy has gone into war preparations, even if it meant starving the peasantry.  We're seen as the most dangerous, despicable, and perverted nation ever to exist in the history of the world.  In their collective minds, America and her people should be turned to ashes!  This is the level of hate that forms the bases of their cradle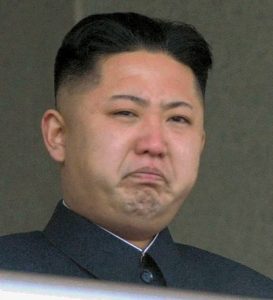 to grave indoctrination program.
They've made no secret that they are seeking to construct long range nuclear weapons, quite the contrary, they've bragged about it!  Despite protests, sanctions, and UN resolutions they forge ahead with a zealot like obsession.  The more advanced their nuclear program has become the more intense and frequent their rhetoric has become to destroy America.
Days ago a missile launch by North Korea proved they have long range missiles capable of delivery nuclear warheads.   Even if you think they still don't have the range, and they soon will.  Imagine what a nuke detonated near Washington, New York, Boston or Baltimore would do?  The devastation would make 9-11 look like a tiny pin prick.  Hundreds of thousands would die in a flash of white, perhaps millions would die and a nuke would lay waste to the blackened land for a 1000 years.   However, if America was not their first choice, it could be Seoul, South Korea or a half dozen other closer targets.
No rogue nation like Iran, Syria, or North Korea, should ever be allowed to develop a nuclear weapon.  To sit by and let that happen would be grossly cowardly and irresponsible.
In the recent past Democrat leaders tried to appease North Korea by giving them technology, money and food.  But, in the end it only allowed them to accelerate their nuclear program.
China was our last best hope of stopping North Korea's nuclear program.  However, so far China has next to done nothing.  China has only fawned concerns while making vague promises that they will probably, maybe, get right on it…some day.
The NYTimes writes, "The North's state-run Korean Central News Agency said its new intercontinental ballistic missile, the Hwasong-14, was capable of hitting the "heart of the United States" with "large heavy nuclear warheads." The launch, according to the agency, successfully tested the functions of the missile's two propulsive stages and the warhead's ability to endure the intense heat and vibrations as it entered the earth's atmosphere."
Yeah, this is a big deal and the president has very few options left.