Posted by Jack
Meta-analysis finds that among men from North America, Europe and Australia, sperm concentration has declined more than 50% in less than 40 years.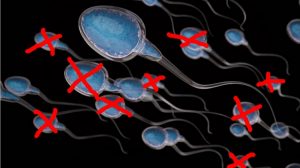 Here's a story that promises to solve man-caused climate change, high real estate prices, rush hour traffic, food, oil and water shortages and a host of other maladies associated with our global population.
A groundbreaking meta-analysis of data collected between 1973 and 2011 has found that sperm concentration has declined by more than half among men from Western countries, with no sign of a "leveling off" in recent years. The study appears today in Human Reproduction Update.
The research — the first systematic review and meta-analysis of trends in sperm count -was led by Dr. Hagai Levine, head of the Environmental Health Track at the Hebrew University-Hadassah Braun School of Public Health and Community Medicine, Jerusalem.
Levine worked with Dr. Shanna H Swan, professor in the Department of Environmental Medicine and Public Health at Icahn School of Medicine at Mount Sinai, New York, and other researchers from Brazil, Denmark, Israel, Spain and the United States. Their findings strongly suggest a significant decline in male reproductive health that has serious implications beyond fertility and reproduction, as recent evidence shows that men with poor semen quality may have a higher risk of hospitalization and death from a variety of health conditions.
So, the good news is… in another 5-6 generations, you will be able to use the fast lane during 5 o'clock traffic with no passenger restrictions!  
And civilization ends, not with a bang and a giant mushroom cloud, but with a meek, frail, little man, standing alone on the beach, watching the sunset.   He has finally inherited the earth, but unfortunately there's nobody left to share it with.   Ah, well, we had a pretty good run for a short time.