by Jack
This is part 1 of a 2 parter.  Tomorrow I will write about my interview with an advocate for a safe Chico.
I went to the Plaza Park not knowing what to expect.  But, as good fortune would have it, my very first contact happened to be with one of the main people who regularly provides free sandwiches and food items to the throngs of homeless that gather there all day long.
Patrick Newman, is a likable young man who is part of a small group of that he calls [real homeless advocates].  They support his ideology that results in a mission to dispense free food and sometimes clothing to those in need.   He feels he is doing what is desperately needed help the homeless.  He does not think he is enabling the homeless to avoid more traditional sources of charity that also help them with rehabilitation.
Newman made it clear to me that there are not many like himself in Chico.  He says he is an extreme case, a person he calls a "true homeless advocate."  Which translates to him being very invested in his personal wisdom re homeless causes and cures.   That part was also made clear later in our conversation.  He seemed almost please to admit that he is very much in the minority with his ideas for the homeless.   It was just as obvious that he is obsessed with spending a good deal of his personal time providing free things for them.
Newman said the current political climate in Chico is deliberately making life hard on the homeless who already have it hard enough.   He says, the city council and others want to drive them out, "…send them somewhere else, but to where, who knows?"
He complained the City has passed stacks of laws just to make life tough for them.  He did not mention that these laws were a response to a problem, a case of cause and effect.
Patrick went on to say, "they can't sleep on the lawn in the park or any public place, it's a misdemeanor and they can be arrested and they are arrested!  They can even use public toilets downtown anymore" and then he noted that the City has closed down the public restrooms in Plaza Park and the little island down by Colliers hardware.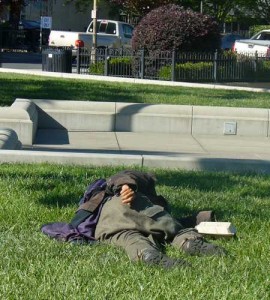 "So, where can these people go to the bathroom?"  We know it's at times in the doorways to downtown business or on their windows and sidewalks.  There are very inappropriate places and one wonders if it was not done more for malicious reasons than necessity.
Patrick told me, "It's not their fault they have to go, its just human biology."  He did not mention that the bathrooms were closed because they were being repeatedly damaged by the homeless and repairs were becoming very costly to the taxpayers.    Nor did he say the filth being dumped on business doors and windows was happening long before the public restrooms were closed down.
I asked him what he thought about the apparent surge in the numbers of out of town homeless population coming to Chico?
Patrick didn't think very many of them were from out of the area, which surprised me because the police say different and if anyone should know, its the police who arrest these people.
Speaking of other cities with a similar problem, Patrick said, "I think they get some of ours and we get some of theirs."  If anything was behind this population problem it was  in his opinion the  growing neglect of the homeless over the past decades.   I tended to agree with this one alright, there has been a definite change.  The police once had reasonable laws that could prevent many of the problems we now face and they were on the books for 200 years.  But, law enforcement and our criminal code has been under relentless attack for about the last 4 decades…ironically, about the same time this homeless problem was growing.
Paraphrasing Newman, homeless, is a label he describes as people with traumatic brain injuries, PTSD, victims of a system that failed to care for them as children, a system that often exposed them to sexual abuse. etc.   "It's complicated, some have a drinking problem, others are on drugs"… but almost all of them have some serious problem that society could have helped them with if we wanted too.   We agreed it was a complicated problem, but we parted on how to deal with it.   He seemed frustrated that that the people who could help aren't doing enough.  I was frustrated with people who were doing too much without asking for something in return.  This would to establish accountability for one's bad acts and at the same time offer a helping hand and direction.
He described the current homeless population a result of a sort of perfect storm, where many issues were converging until there was a great tipping point.  it was an explosion of sorts of a homeless population.   Perhaps so, but missing was any notion that the liberalizing of America and socialism had anything to do with it.  But, that was just my opinion.
"Maybe if we spent a few billion dollars on this problem we could fix it," he said. I questioned this, a few million? Patrick replied, "Well may be a little more than a few, but, if we could just tax the wealthy 1% more, 1/2% or even just a 1/4% more, we could start changing things."  Ah, sooner or later it had to get around to the rich!  The liberal answer is always the same, tax the rich and throw more money at the problem.
Patrick felt one answer was to provide housing, get the homeless into a small house, then "we could start treating their demons."   He cited the great housing project created by Lloyd Pendleton, director of Utah's Homeless Task Force.   This sounded reasonable, so I had to look into it.
Utah claimed they have reduced chronic homelessness by 91% by providing small houses at low cost, i.e. 30% of income or $50 whichever is greatest.
Note: A similar approach was first tried in Los Angeles in the late 1980s and New York City in the early 1990s. Later, the Bush administration adopted the model, and cities and states started writing 10-year plans to end chronic homelessness.  It hasn't worked.
Let me pause here for a moment here to reflect on Utah's near miraculous achievement of reducing homelessness by 91%.   That sounds too good to be true.   According to an investigative report, Utah's claims are not true.  "I spent some time studying Utah's data and found that the miraculous 91 percent reduction in chronic homelessness appears to be driven by changes in how people were counted, rather than by how many there were."
An article in the Guardian told a similar story, but acknowledged, Utah has made some progress, but the problem is still acute and it's costing the taxpayers a bundle for more and more shelters.
So, Patrick seems to be partially right when he said subsidized housing could act as a containment point, where homeless are present for some future treatment effort.
Sure, it could, there's no question.  But, it's also expensive and it's not the end all be all for a successful resolution.   This idea is just one facet among many others to treat the chronically homeless.  They all cost money, time and a lots of labor.   A few billion to treat the homeless problem is likely the greatest underestimate since Obama said Obamacare would save the average family $2800 a year.
It's a real uphill struggle to continually try to force positive change on brain damaged or addicted people, who have made bad choices almost every minute of their lives.  These broken people can soak up finite resources at an unbelievable rate and in the end they may be little better off than than the guy (gal) who never had access to all these social services. It's far too costly to expect a city like Chico to solve the problem alone.
Any city acting unilaterally to provide every homeless that ventures into town,  is first impossible to do and to even attempt it is to cast a giant homeless magnet into a sea of homeless.   Chico's social resources are already being tapped to the point that we can no long provide for our own needy, because we're taking on problems from of people from far away, sometime thousands of miles away.  These are transients that have found their way to Chico because they think this is a great place to hangout.   Or they they were given a free bus ticket here by a city glad to get rid of them.
I commend the generosity and kindly nature Patrick Newman, but I think we are far apart on many points when it comes to the homeless.  He's very focused on what he believes and he's very invested in those beliefs.   I can understand how his opinions/views on the homeless are in the minority, but I admire his single-minded determination and his spirit.