by Jack
The terrible part is, this is nothing new. . . 
Three days ago two young, Muslim, men in a rented van ran over 13 people, killing them and injuring at least 100 more.  It was a vehicle assault that extended over 10 blocks.
It was later determined that a simple,  inexpensive road block, such as a concrete bolster, placed at either end of the pedestrian walk, would have prevented the killers from entering with their van.
That part, the security items, is all on the government of Spain (see picture of a basic bolster on left), but situational awareness is ultimately up to the public and that's why I am writing.
Prior to this event, terrorist warnings were issued repeatedly to the European public via thousands of radio and television news stations, telling them to be alert, be aware of your surroundings when in public places, and when possible try to avoid the crowded tourist areas.   But, people never seem to be aware of their surroundings or avoid the crowds.
The dire warnings were underscored by the fact that many prior terrorist attacks used the same M.O., a vehicle to "mow down" pedestrians in crowded areas.   Amazingly, in each case the victims were seemingly caught unaware and did little or nothing to get out of the way to save themselves!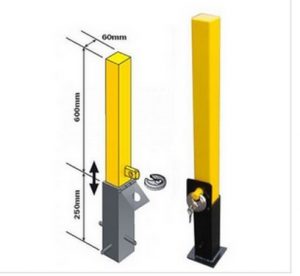 The first warnings of vehicle attacks go back over seven years ago and yet we still find those popular crowded tourist areas that are predicted targets, being under-policed and under-protected by devices that would stop madmen in a vehicle intent on killing pedestrians.  (A lockable, removable bolster is shown at right, simple and costs about $100)
It's a case of, let's surprise em ten times in a row and so they did…
A 2010 webzine article titled, "The Ultimate Mowing Machine" called for deploying a pickup truck as a"mowing machine, not to mow grass but mow down the enemies of Allah."
In September 2014, ISIS spokesman Abu Mohammad al-Adnani called for lone wolf attacks using improvised weaponry, "If you are not able to find an IED or a bullet, then single out the disbelieving American, Frenchman or any of their allies. Smash his head with a rock or slaughter him with a knife or run him over with your car….
Timeline:
March 3, 2006 – Mohammed Taheri-azar, an Iranian-American, drives an SUV into an area crowded with students at the University of North Carolina at Chapel Hill. Nine people sustain minor injuries during the attack, which Teheri-azar later says is retribution for the killing of Muslims overseas. He is convicted of attempted murder in 2008 and is sentenced to 33 years in prison.
October 22, 2014 – A three-month old girl and an Ecuadorian tourist are killed when a driver swerves into a crowd at a light rail station in Jerusalem. The driver, Abdel Rahman al-Shaludi is shot and killed by police. Israeli media reported he published militant writing on Facebook and supported Hamas, a fundamentalist Islamic group that has conducted attacks in Gaza and the West Bank, but his family denied he supported Hamas or any terror organization.
July 14, 2016 – After a Bastille Day fireworks display in Nice, France, a man drives a 20-ton rental truck into the crowd, striking and killing at least 84 people. The attacker, Mohamed Lahouaiej Bouhlel, 31, a Tunisian national, drives nearly a mile on the beachfront promenade before he is shot and killed by authorities. French officials say Bouhlel seemed to become radicalized "very quickly" by ISIS propaganda before the attack. He also suffered from mental illness, according to his father.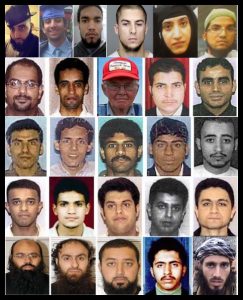 November 28, 2016 – At Ohio State University, 11 people are injured when a student, Abdul Razak Ali Artan, 18, carries out a car and knife attack. A campus police officer shoots and kills Artan, whom police believe inspired by ISIS and the radical cleric, Anwar al-Awlaki.  (Notice anything similar about these pictures on the left?)
December 19, 2016 – A Tunisian man drives a tractor trailer into a Christmas market in Berlin, killing 12 people. In the wake of the attack, authorities conduct a manhunt for Anis Amri, 24, throughout Europe. He is shot and killed by police in Milan, Italy, four days after the attack. Hours after Amri dies, ISIS releases a video of him pledging allegiance to the terrorist group.
March 22, 2017 – A man drives an SUV into a crowd on the sidewalk along the Westminster Bridge in London, killing at least four. After ramming the car into a barrier outside the House of Parliament, the driver exits the vehicle and stabs a police officer to death. The attacker is then gunned down by a police officer. The assailant, Khalid Masood, 52, of West Midlands, reportedly had a criminal record and may have had connections to violent extremism, British Prime Minister Theresa May says.
April 7, 2017 – At least four people are killed when a truck drives into pedestrians on a busy street in the center of Stockholm, Sweden, before crashing into a department store. The attacker, Rakhmat Akilov, a 39-year-old from Uzbekistan, admitted to carrying out a "terrorist crime," his lawyer says.
June 3, 2017 – Seven people are killed in two terror attacks in central London before police shoot three suspects dead, the Metropolitan police say. The violence begins when a van swerves into throngs of pedestrians on London Bridge. The suspects then jump out the van and proceed on foot to nearby Borough Market, a popular nightlife spot, where witnesses say they produce knives and slash indiscriminately at people in restaurants and bars. At least 48 people are taken to hospitals, according to the London Ambulance Service. Authorities announce 12 arrests the next day.
June 19, 2017 – Just after midnight, a van plows into a group of pedestrians who had attended late-night prayers at London's Finsbury Park Mosque, killing one man and injuring 11 people. The driver is arrested at the scene for attempted murder and further held on suspicion of terrorism offenses. The suspect is later identified as Darren Osborne, 47, a resident of Cardiff in Wales, according to multiple UK media outlets.
In another non-surprise, 100% of the terrorist cell that was responsible for the latest
attack in Barcelona, were originally from countries known as a hotbed of Muslim terrorism and they were all young males and they were all Muslims. Not one…no, not one has ever been an elderly white female from the mid-west! However, political correctness keeps denying that profiling has any merit? (The picture on the right is not a terrorist, even though the left says he could be)
I sincerely hope if you choose to travel to Europe and you're out enjoying your vacation when you hear screams, coupled with the sound of a grinding metal, possibly tires screeching, as a vehicle engine races with the sounds of death getting louder and louder, that [you] will not continue to sit there at that outdoor cafe, sipping your $12 latte, annoyed at all the ruckus coming your way. Instead, you will leap out of your high heels, make like an Olympic hurdler, and dive for rock-solid cover, before the next American tourist can say, "Oh, garson, garson… can't you do something about all that dreadful noise and why on earth are you hiding behind that concrete…."