by Jack
Aug. 27th, 2017 - Black-clad antifa members attack peaceful right-wing demonstrators in Berkeley.  Police stand-by and do not interfere with attackers, allegedly they were acting under orders not to get involved when the rioting broke out.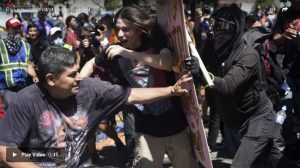 I have a few questions about this terrible incident.  First question:  Why didn't police arrest ANTIFA demonstrators?
They sure had plenty of cause to make arrests and they had all the manpower necessary.
The ANTIFA are the ones wearing black clothing and masks in picture.  The last time I checked forcing your way past a police barricade wearing a mask to attack someone is a public offense.
Penal Code 148a:  Resisting, delaying or obstructing an officer in the performance of his duties, a misdemeanor…  Could get you 6 months in jail!
Penal Code section 185: Provides that it is a misdemeanor for any person to wear any mask, false whiskers or any personal disguise (whether complete or partial) for the purpose of evading or escaping discovery, recognition, or identification in the
commission of any public offense.
Was Berkeley obliged to provide protection to the victim protestors attacked by ANTIFA?
"The Bane Act," Civil Code section 52.1 –provides protection from interference by threats, intimidation, or coercion or for attempts to interfere with someone's state or federal statutory or constitutional rights (these include association, assembly, due process, education, employment, equal protection, expression, formation and enforcement of contracts, holding of public office, housing, privacy, speech, travel, use of public facilities, voting, worship, and protection from bodily restraint or harm, from personal insult, from defamation, and from injury to personal relations)– proof of "hate motivation" required, according to a 1994 Court of Appeal decision in Boccato v. City of Hermosa Beach.
Did the police officers at the scene of the rioting who witness people being attacked and knocked to the ground by ANTIFA rioters have a duty to render aid and make arrests?
Apparently this is a big NO, according to CA.  The law requiring officers to act during the commission of a felony is no longer on the books.  Also the Supreme Court issued several decrees saying no, cops did not have a legal duty to act.  But civil laws says yes, so there can be a civil suit, but not a criminal trial.
But, if you read the Peace Officer's oath, you would think he/she has a moral and legal duty to act….
3-1. Code of Ethics:  To insure that all peace officers are fully aware of their individual responsibilities to maintain their own integrity and that of their agency, every peace officer, during basic training, or at the time of appointment, shall be administered the Law Enforcement Code of Ethics, as prescribed in Regulation 1013.
3-2. AS A LAW ENFORCEMENT OFFICER, my fundamental duty is to serve mankind; to safeguard lives and property; to protect the innocent against deception, the weak against oppression or intimidation, and the peaceful against violence or disorder; and to respect the Constitutional rights of all men to liberty, equality and justice…    I will constantly strive to achieve these objectives and ideals, dedicating myself before God1 to my chosen profession…law enforcement."
Next – Laws relating to hate crimes and speech…
PC 71 Threats against a police officer or his/her family.  (Hate speech?)
PC 76 Threatening Life of or Serious Bodily Harm to Public Official, Staff, or Member of Immediate Family.
Miscellaneous – Civil Rights.  I just found this section rather interesting….
Text of Section 242 U.S. Code, Title 18, Section 242: Deprivation of rights under color of law.
Whoever, under color of any law, statute, ordinance, regulation, or custom, willfully subjects any inhabitant of any State, Territory, or District to the deprivation of any rights, privileges, or immunities secured or protected by the Constitution or laws of the United States, or to different punishments, pains, or penalties, on account of such inhabitant being an alien, or by reason of his color, or race, than are prescribed for the punishment of citizens, shall be fined under this title or imprisoned not more than one year, or both;…
Summary of Section 242 This law makes it a federal crime, punishable by a fine or imprisonment up to one year, or both: for any person, acting under color of any law to willfully deprive any person of any legal right or to subject any person to a different punishment or penalty based on that person's color, race, or citizenship status Meaning to peace officers Peace officers can be prosecuted criminally if they apply a law unevenly because of a person's color, race, or the fact that the person is an undocumented person.