Posted by Tina
There are many more men and women who belong on the "Silence Breakers" list than those you see featured in the photo at left. The list continues to grow. But something else is missing in this celebration of "bravery."
It's not that I object to Time Magazine's choice, they can do as they please. It's good that this rampant deplorable behavior has finally been exposed. But Time touts the importance of these women coming forward now when it could have been so much sooner:
Social media acted as a powerful accelerant; the hashtag #MeToo has now been used millions of times in at least 85 countries. "I woke up and there were 32,000 replies in 24 hours," says actor Alyssa Milano, who, after the first Weinstein story broke, helped popularize the phrase coined years before by Tarana Burke. "And I thought, My God, what just happened? I think it's opening the floodgates." To imagine Rosa Parks with a Twitter account is to wonder how much faster civil rights might have progressed (emphasis mine).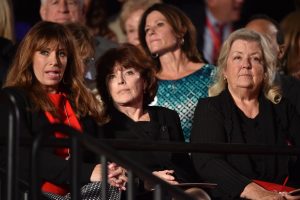 How much "faster" might the "floodgates" have opened had many of these women come forward when Bill Clinton's accusers came forward? How "Rosa Parks" would this story have been had the media bothered to believe Clinton's accusers? How much damage was done during the years that followed because no one bothered to question the character of Bill Clinton in 1992?
Has there been an ounce of compassion from the left for the women Bill Clinton is accused of raping and molesting or is the confession parade now, at least in part, just a ruse? Is it step one in a radical feminist plan to cleans the Democrat Party of it's indecent players, and hypocrisy, as a means of gaining greater power within the Democrat Party?
Is politics the main driver behind the outrage?
I believe most of the women are sincerely fed up with conditions they've endured and were finally emboldened to speak up but I also wouldn't put it past some to be engaging in a much bigger political game in which they've chosen to break a few eggs to make a power omelet. The treatment of Bill's accusers, both then and now, is an indication that radical feminists continue to be biased against Clinton's accusers and continue to seek power at their expense to further the feminist agenda.
Will this brave moment alter behaviors or attitudes in future? Will the exploiters clean up their acts? Will the exploited come forward in the moment? I guess we'll have to wait and see….for now, these women (and men) are #1 on Time's list of significant people for 2017.
Related (caution, some material explicit):
CNN, "Democratic senators to Al Franken: Resign"
NBC, "John Conyers III arrested but not prosecuted in domestic abuse case"
Daily Mail, "Former NBC exec Jeff Zucker who had 'never heard about of Matt Lauer's sexual misconduct' joked about him masturbating and 'rolled with laughter' about the 'C**k of the Rock's' sexcapades at explicit 2008 roast"
Telegraph, "'Terrifying and humiliating': male models accuse fashion photographer Bruce Weber of sexual harassment"