Posted by Tina
A shakeup in government is underway as Rex Tillerson is relieved of his duties as Secretary of State. Philosophical differences regarding policy on North Korea, Russia and Iran seem to be at the bottom of Trumps decision. Two of Tillersons underlings were also fired. Tillerson's departing comments were gracious and demonstrate his dedication to our nation:
"What is most important is to ensure an orderly and smooth transition during a time that the country continues to face significant policy and national security challenges.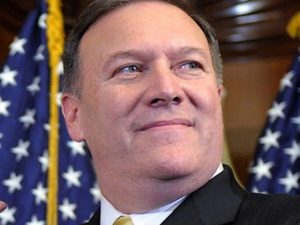 Trump has named CIA Director Mike Pompeo to replace Tillerson at state. CIA deputy director, Gina Haspel has been named to replace Pompeo.
The new appointments send another strong message of strength to our enemies. The little doves among us will probably go screaming into the night at the news since they have no experience that peace comes through strength. Since they don't understand that the big dog prefers peace and security they fear apocalyptic war unnecessarily. This change in management will create an aligned approach and that's a good thing. The last thing we need at this time is mixed messages.