by Jack
06-21-18, (breaking news) According to Ms. Juanita Nada-Cerebro, spokesperson for "Code Red – Save the Children," the Trump Administration is separating little children from immigrant families and lodging the immigrants in substandard tents, baking in the summer heat of the Texas sun! 
"The filthy, overcrowded camps encircled with barbed wire and guard towers are something not seen since the days of Nazi Germany. The conditions are deplorable, the children are literally being ripped right from their mothers arms and tossed into these (Nazi-like) concentration camps." Said Nada-Cerebro as she wept in front of the TV camera.
Her cries for help have no doubt reached the ears of good senators like Diane Feinstein-D and Charles Schumer-D who have been long been blaming President Donald (Nazi) Trump for creating the human disaster on our Southern border that Obama had virtually fixed.  (This is going to cost the GOP big time next elections)
Below are the pictures they (GOP Nazi's) don't want you to see!  These are the actual raggedy old (probably Nazi made) tents that are placing harmless immigrants in deadly peril of the summer heat.  Ms. Nada-Cerebro said, "Yes, these tents are terrible, it's inhuman, how can a loving country treat immigrants this way?  Only racist Nazi's could do this!"
Oops, sorry wrong photo. This is actually a homeless encampment in Los Angeles. The picture   (below) is actually the concentration camp for immigrants.
"The border patrol Nazi's have not said precisely how many of the immigrants were drug smugglers, human smugglers, wanted criminals, sex traffickers, etc.,  So, we must assume they're all just hard working, honest people looking to relocate their medical practice or perhaps their law office?  They could also be mostly college grads unable to find a good job in Mexico's aerospace, auto, computer or medical industries."  Said Nada-Cerebro.
The deplorable hot tents are pictured below.  The prisoners are being assigned to their new temporary housing until their case can be heard in court.  "They are asked to walk single file to their tent… that's cruel and disgusting treatement." Said Ms. Nada-Cerebro.
Are we no better than the WWII Nazi's?  Oh, sorry I lost my head just looking at the poor, law abiding folks, but then who wouldn't?  Rachel Maddow she gets it, so does Peter Fonda and George Clooney.  That's enough expert testimony for me, how about you?  Yeah, Alec Baldwin for President!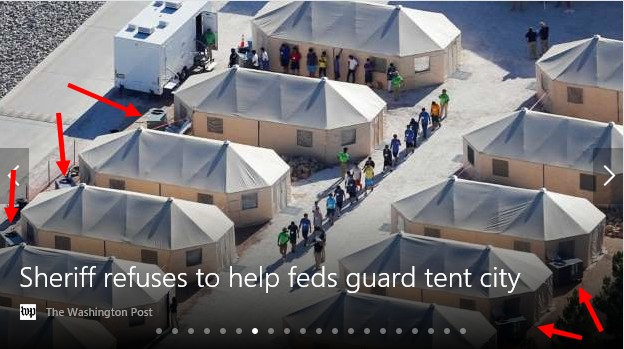 The red arrows indicate the air conditioning, but these are probably-not-top quality A/C units  that probably don't have HEPA filters!   Double wall construction,  windows, heat reflective fabric…Ppfffft.  You try surviving in one of these!
I bet right now they are wishing they had just stayed  home in Mexico.  At least their former Mexican neighborhoods were clean and safe, unlike the deplorable conditions they are force to endure now!
Hillary Clinton has the answers….so does Bill.
Safe and secure Mexican neighborhoods.  Why come to America when you have all this?