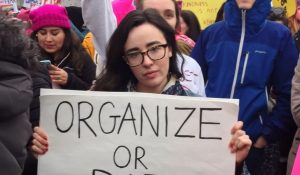 Posted by Tina
Last night The Daily Caller reported that one of the radical activists that harassed Nielsen while she was dining at a Mexican restaurant on DC is an employee at the Department of Justice! This ignorant woman is supposed to be a servant of the peopel not a juvinile freak:
Members of the Washington, D.C., chapter of the Democratic Socialists of America crashed Nielsen's meal with a demonstration full of chants and other outbursts.

One of those participants, Allison Hrabar, actually works for the Trump administration — as a paralegal in the DOJ.

"Kirstjen Nielsen, you're a villain, locking up immigrant children," activists can be heard saying in a video. …

… The Washington Examiner spoke with Hrabar Wednesday and she defended her behavior as off government time and a use of her First Amendment rights. … "If you see these people in public, you should remind them that they shouldn't have peace," she told The Examiner. "We aren't the only ones who can do this. Anyone who sees Kirstjen Nielsen at dinner, anyone who sees anyone who works at DHS and ICE at dinner can confront them like this, and that's what we hope this will inspire people to do."

Despite Hrabar's claims of keeping her personal politics outside of her time as an employee of the federal government, a look at her Twitter account, @allisongeroi, features tweets during the workday openly celebrating her behavior Tuesday night.

"Keeping families together in jail is not an acceptable solution," Hrabar tweeted Wednesday afternoon at 1:56 PM.

Following the protest, Hrabar tweeted that, "No one who has ever made their living terrorizing immigrants deserves peace. If you see one in a restaurant, at a movie, or in your neighborhood, remind them of that."
Amazing. Radical leftists always scream about their own rights while stomping all over the rights of others. They yammer on about "our values" while stomping all over them.
This young woman paid $50K (annual tuition) to attend Swarthmore College..poor decision…she's dumb as post! Whatever bureaucrat hired this woman is also of questionable abilities. If our nation is going to be managed well we must have qualified people of high integrity.