by Jack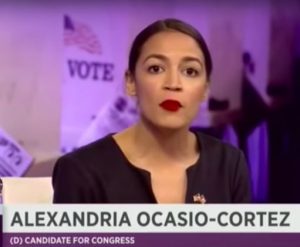 On June 26, 2018, Alexandria Ocasio-Cortez, a 28-year-old Bronx native, made history when she thoroughly defeated 10-term New York Democratic congressman Joe Crowley in New York's 14th congressional district in the state's Democratic primary, with close to 58 percent of the vote. It was her first time running for office, and as a Democratic Socialist of Puerto Rican descent, her stunning victory over the fourth most powerful Democrat in the House was a boon to the progressive change that many liberal voters have been demanding.
So what are her campaign planks, you may wonder? Well, what does any socialist want? She wants bigger government with a whole bunch of expensive entitlements, such as Universal healthcare, $15 an hour minimum wage and crazy things like transforming the enforcement of immigration laws into an agency geared more towards aiding and abetting illegal immigration.
Ocasio-Cortez listed her family address as in the Bronx, but it turns out she hasn't lived in the Bronx since she was 5 years old.  Her "Bronx background" is not the first shaky assertion she's made. In an interview with the left-wing outlet, the Intercept, Ocasio-Cortez claimed, "ICE is required to fill 34,000 beds with detainees every single night and that number has only been increasing since 2009."
But, according to Politifact, the legislation to which she referred requires only that ICE have 34,000 beds [available] every day.
If elected she will become the youngest Congress person in history. Now there's a compelling reason to vote for a candidate that no rabid liberal could pass up. But, equally important is the fact she implies in her bio, that she is of poor Puerto Rican descent. And to complete this picture, she's a far left female who had to struggle to get a public education.  Imagine a little girl riding the bus to and fro while attending a rough Bronx public school.  For your average liberal voter, it just doesn't get any better than that. No wonder she won so easily over the older rich white guy.   As you can see, he had way too many negatives.
But, digging a little deeper into Ms. Ocasio-Cortez's background, all is not as it seems!
Front Page magazing had this to say about Alexandria: "….Nor is Alexandria Ocasio-Cortez a "girl from the Bronx". She's the daughter of an architect from a pricey suburb in Westchester County. Her father, a Pratt Institute grad, was a founder of KOR which stood for Kirschenbaum & Ocasio-Roman Architects.
The Ocasio (rather than the Kirschenbaum) part of the name meant that it operated as a "certified minority business enterprise" which came with assorted privileges… a suburban leftist with a bio consisting of studying International Relations at Boston U, working on immigration issues for Ted Kennedy, serving as the National Hispanic Institute's Social Entrepreneur in Residence, producing a web series, shuttling between trendy lefty protests and founding what appears to a defunct social justice publishing house."
Will these revelations matter? Probably not. As you know, once the great lie is out there, it's almost impossible for lefty democrats to comprehend any other version, no matter how supportable the latter version may be.
This is a proud day for the democratic party, because they are able to run a second avowed socialist out in the open. Albeit, thanks to the first socialist, Bernie Sanders, who paved the way. It's a watershed moment for communists everywhere!