Posted by Tina
Next up on the Democrat agenda is abolishing the Immigration and Customs Enforcement (ICE) agency. Legislation sponsored by Mark Pocan, D-Wis and co-sponsored by Rep. Pramila Jayapal, D-Wash., and Rep. Adriano Espaillat, D-N.Y., has already been written. This trio thinks ICE has strayed from it's original mission…they want to abolish it.
ICE was created in 2003 " to enforces federal laws governing border control, customs, trade and immigration to promote homeland security and public safety. See here. The active enforcement of our laws is being carried out by this agency. I see nothing that suggests they have "strayed" form their original purpose.
Instead I see a group of open borders zealots who want to turn this security agency into an agency that's part handholder/babysitter and part welcoming committee:
If passed, the bill would sunset ICE within one year, and immediately create a bipartisan group to work out a replacement.

The White House would have no role in the group, which would consist of eight members appointed by congressional leaders and minority party leaders, and nine members from the "major civil society and immigrants' rights organizations and individuals directly impacted by ICE practices." (Talk about a packed group!)

That group would be required to "identify all essential functions of ICE that uphold the Constitution," then "identify the appropriate federal agencies that shall be tasked with executing activities such as combating financial crimes, cybercrimes, trade fraud, human trafficking and drug smuggling." It would be up to the commission to "approve the agency's suitability for that function based on such agency's track record of transparency."

The legislation also would ensure that "total federal employment is not reduced with the abolition of ICE" but would prioritize jobs that dealt with the "legal, health, and social-service needs of detained individuals." And it would give the commission a kind of "truth and reconciliation" mission, asking it to study "failures to comply with congressional oversight requirements, violations of constitutional protections and U.S. laws, failures to comply with agency policies and directives, violations of human rights, and any other longstanding patterns of medical neglect, solitary confinement, wrongful death, and other abuses for which ICE is wholly or partially responsible."
Weaponized political inquest, anyone?
This bill should never see the light of day! Basically it's authors are throwing a hissy fit! Democrats can't stand the fact that Trump has authorized ICE agents to enforce existing laws…a hissy fit because Democrats are no longer in charge…a hissy fit because they can no longer work around our laws.
Have you noticed how much the sore loser left keeps saying we must do things their way…as if Hillary the criminal had actually been elected? It's cheeky…and obnoxious! But, it's all they've got.
Lefty activists have plenty to say on the subject. Angel Medina, the national policy director of Indivisible said, "But what's almost more important than what's in it is recognizing what it represents – sending a signal that ICE itself is a a rogue agency that operates with impunity, and we need to get rid of it. We need to get out of this enforcement culture that we've created."
So…the laws are okay but enforcing the law is not okay!
Sean McElwee, co-founder of Data for Progress and originator of the "Abolish ICE" slogan, said, "Now that we have a clear consensus that ICE must be abolished…
(By what insane measure is there a "clear consensus?")
….it's time for a discussion about a humane enforcement system. That means ending the criminalization of migration (come and go as you like), creating a fast path to citizenship (grab the attending goodies ASAP), limiting the scope of CBP's (Customs and Border Protection) enforcement and ending our inhumane immigrant detention system. The existence of the legislation proves that within the Democratic Party there is some interest in moving away from pandering to white supremacy."
Our immigration and enforcement laws are in place just to help anyone who wants to come here get settled in America?
The Pocan trio has been joined by more than 100 local and state leaders including, "Oakland, California, Mayor Libby Schaaf, D, and Chokwe Antar Lumumba, D, the mayor of Jackson, Mississippi." But the Congressional Hispanic Caucus didn't call for ICE to be abolished in it's talking points on immigration.
Pocan is a bigot! He shows a certain level of ignorance, or political cheek, when he states, "Our contention is right now they're not able to go after hardcore MS-13 gang members because they're focused on the person who just got the speeding ticket."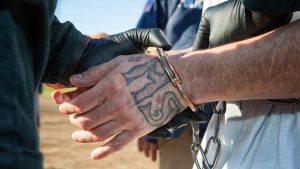 Ahh…not so. According to ICE, and they should know, in the first 100 days alone following Trumps EO, "Nearly 75 percent of those arrested…are convicted criminals, with offenses ranging from homicide and assault to sexual abuse and drug-related charges." That includes MS-13."
The Feb. 16 arrest in New York City of an MS-13 gang member, Estivan Rafael Marques Velasquez, a Salvadoran national with a criminal history in the U.S. which includes reckless endangerment in the second degree, criminal possession of a weapon in the fourth degree, and disorderly conduct. … The March 9 arrest in DeKalb, Georgia, of Jose Mercedes Meza-Ignacio, 52, a citizen of Mexico residing in Atlanta, wanted on criminal charges for child molestation. … The April 10 arrest in Dallas, Texas, of Juan Antonio Melchor Molina by the agency's Dallas Fugitive Operations Team. Molina is the subject of a 2011 murder warrant issued by the Prosecutor General's Office in San Luis Potosi, Mexico. Mexican authorities allege that Molina shot and killed Jorge Alejandro De La Rosa at a wedding in 2008. … The April 13 arrest in Denver, Colorado, of Jose Victor Bonilla-Melendez, one of ICE's "Most Wanted Fugitives," in Denver, Colorado, following a public tip. Bonilla-Melendez is also known as Anthony Garcia-Melendez, a citizen of Honduras whose criminal history includes felony convictions for assault causing serious bodily injury, sexual assault and unlawful re-entry after deportation. … The April 26 arrest in Houston, Texas, of William Magana-Contreras, a Salvadoran MS-13 gang member wanted for aggravated homicide in his home country.
Democrats say we should leave these citizens of the world alone…help them with services and stuff. Bend over backward to make them feel welcome!
A six week long operation targeting MS-13, involving ICE and local authorities, resulted in 1378 arrests:
1,098 were arrested on federal and/or state criminal charges, including 21 individuals arrested on murder related charges and seven for rape and sexual assault charges. The remaining 280 were arrested on administrative immigration violations. Of the total arrested, 933 were U.S. citizens and 445 were foreign nationals from 21 countries in South and Central America, Asia, Africa, Europe and the Caribbean.
An equal opportunity raid that targeted the deadly MS-13 gang. Oh the humanity.
Quite a number of people who are in this country illegally are repeat offenders. We give them the benefit of the doubt the first time, a misdemeanor crime. Repeat offenders are committing a felony. Democrats continue to characterize them as victims of a "rogue agency that operates with impunity," when everyone knows they are criminals.
We do need immigration reform. We need reforms that put an end to these very costly immigration issues. We need to build the wall. We need to bring an end to anchor babies and chain migration. We need to continue to hold leaders of other nations responsible for the health, well being, and prosperity of their own citizens. America cannot be a support system for the rest of the world, nor would we want to.
Related: The American Thinker, "It's time to 'reimagine' birthright citizenship, by Brian Lonergan