by Jack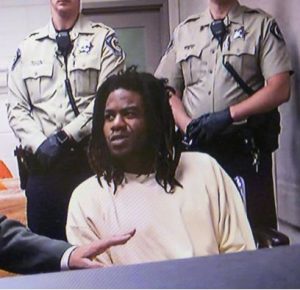 July 2, Boise, Idaho – It began with an act of kindness. A local homeless man, Timmy Kinner, was down on his luck. So he was invited by a good samaritan, a casual friend of his, to stay at his apartment for a few days. But, Kinner wore out his welcome fast. His behavior was so bad he was told that he had to go and his host gave him the boot. This triggered a growing rage. That anger culminated when Kinner returned to the apartment complex to seek revenge. (Kinner is shown left, in his first court appearance yesterday.)
According to police, Kinner returned to the apartment complex mad at the world and armed with a knife.   The very first group of people Kinner encountered were several refugee families and their small children having a birthday party.   They had absolutely nothing to do with Kinner's problem; they didn't even know the man and when he went psycho on them they were shocked and stunned.
They were just having an outdoor party for 3 year old Ruya Kadir.   The last thing they expected was to be savagely and pointlessly attacked by a killer with a knife.  Before it was over, 9 people had been repeatedly stabbed, 6 of them little children.  Ruya, age 3, would eventually succumb to her wounds several days later. See picture on right.   Why would he stab her, she had done nothing.  Then again, why stab anyone?  Only Kinner can answer that one.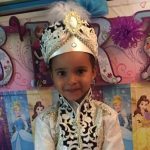 According to police, Kinner has a criminal past and was fairly well known to Boise officers.
Not surprising, random, pointless, stabbings are not an uncommon among the homeless camps.   The threat is often hidden behind the faces of those with mental issues from any number of causes, many self inflicted.  Now they are socio-paths, pathological predators and who knows what could set them off?  Simply put,  when you are dealing with the hoards of homeless in a town,  you can never know exactly who you're truly dealing with.
In Kinner's case, his unsuspecting friend introduced this ticking  time-bomb into a nice family complex, albeit with good intentions!  And you know what they say about good intentions paving the way to Hell?
This terrible incident must serve to remind us that we have a very serious and complicated problem whenever we're dealing with the homeless.   Not long ago several Chico locals were stabbed by a homeless man after they refused to give him their spare change.  A stabbing death followed soon afterwards, which was believed unrelated to the other stabbings.   So these things can happen anywhere at any time.
As the homeless population in CA swells to dangerous levels, I'm reminded how the ACLU once sued to get the mentally ill released from hospitals nationwide.  How our so-called "professionals" thought out-patient care would be more beneficial and practical.  And I recall how at almost the same the same time the ACLU sued to get several good laws overturned that helped police have some measure of control over the local transients.
Vagrancy laws were tossed out.  Failure to identify – tossed out.  Loitering in the late hours under suspicious circumstances – tossed out.  Sleeping on the sidewalk – tossed out.  Even urinating or defecating in public was deemed not an offense under certain circumstances.
It's time to take off those rose colored glasses and deal with our new reality.   We need those laws more now than ever.  Police and ought to be able to take crazies off the street for a mental health evaluation and possible a court ordered hospitalization.  Chronic vagrants, convicted of petty offenses that are physically and mentally fit should be put on a chain gang so regular work would like more appealing.  The idea that if we will just be good neighbors the bums sleeping in our neighborhoods will likewise be good neighbors.
The net result of years of denial, years of failed touchy-feely programs, years of destructive liberal government has brought us to a very low place in our nation's history.  Crime in CA, especially violent crime among the homeless population, has spiked at the same time CA passed several harmful soft on crime pieces of legislation.   It's going to be up to us, collectively, to demand better and if the politicians can't cut it… vote them out!