Posted by Jack
Nobody knows the costs or the impact on California taxpayers and businesses, but never mind that, the goal is to produce more clean air than dirty air so its worth it.
Senate Bill 100, signed yesterday by Governor Edmund Brown, increases the amount of electricity to be supplied by renewables to 60% by 2030 – up from the current target of 50% by 2030 – with all of its retail electricity supply to come from renewable energy and zero-carbon resources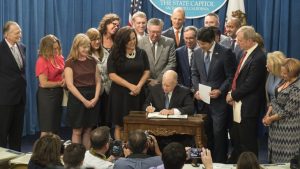 by 2045.
The bill also requires the state's Public Utilities Commission and its Energy Resources Conservation and Development Commission to take steps to ensure that a transition to a zero-carbon electric system for California does not cause or contribute to greenhouse gas emission increases elsewhere in the western grid.
The executive order reaches beyond the electricity sector, which represents 16% of California's GHG emissions, directing the state to achieve carbon neutrality by 2045 and net negative GHG emissions after that. This will require large investments across all sectors – energy, transportation, industrial, commercial and residential buildings, agriculture, and various forms of sequestration including natural and working lands, Brown said.
"This bill and the executive order put California on a path to meet the goals of Paris and beyond. It will not be easy. It will not be immediate. But it must be done," Brown said. He did not mention costs or who was going to pay for it and what its overall impact would be on the State's economy.