by Jack
A 55 year old woman was found on campus, brutally beaten to death in the early morning hours.  Police released scant details, however they said the suspect was arrested shortly after the grisly discovery.  Both suspect and victim were described as homeless people and not connected to the university.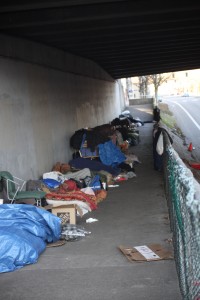 The man arrested was believed to be in his late 20's or early 30's.   No further information was available as of this time.
Now consider this. . .
Cost of murder investigation and local detention:  $40-50K
Cost of trial:   $50-100K
Cost of prison incarceration:  $65K per year X 15 = $975K
Estimated total costs until release date:……   $1,100,000
After release – parole costs and assisted living and medical:    $275k-$750k
Total AVERAGE cost to taxpayers for 1 homicide:       $1.375M-1.5M
I believe this crime and all the subsequent costs was an avoidable consequence of Chico's expanding homeless population.  Consider, if we had a vagrancy law again, which excludes those with mental illness:
Fewer arrests overall – majority of vagrants simply avoid CA due to tough law and a work program -  Cost savings hundreds of millions in money, lives and property.
Cost of running such a program:
Upon arrest for vagrancy- Court cost:  Minimal- $1000 per vagrant, paid back with public service, see below.
Cost of vagrant incarceration in county – Cost $45 a day, off set by public works cleanup  prisoner earns $75 a day working until all costs recovered.  Maximum jail time 1 year.
Vagrant release program:   Offered free bus ride back to family or home of origin – cost:  $50 – $300 per person, off set by future costs.
But, whatever numbers you want to use, higher or lower, you have to know a vagrancy law would be far better for society than without one and it would be far less expensive than what we have now.  Years ago, a very liberal USC threw out the old vagrancy laws that served us so well for over 150 years.  I think it would have been better if  had thrown out the old liberal justices!   Common sense and the public good  should win over legal technicality every time, but sadly it doesn't.