by Jack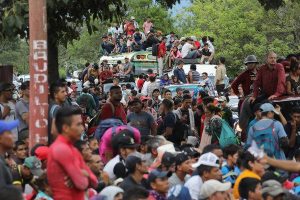 (Left- Marching to America, illegals demanding entry)
No presidents in recent history have dared to resolve the highly controversial issue anchor babies and illegal immigrants.   However, for President Trump this is a clear cut issue.  Other nations do not allow anchor babies and the 14th amendment has language that says we shouldn't either.  He's betting the majority of American's will back him up and moreover the USC will too.  
According to the 14th Amendment, "All persons born or naturalized in the United States, and subject to the jurisdiction thereof, are citizens of the United States and of the state wherein they reside."   So, what does it mean, "subject to the jurisdiction thereof"?
The Civil Rights Act of 1866 begins with language from which the 14th Amendment's Citizenship Clause is derived: 'All persons born in the United States, and not subject to any foreign power, excluding Indians not taxed, are hereby declared to be citizens of the United States.' (Emphasis added.) The explicit exclusion of Indians from birthright citizenship was not repeated in the 14th Amendment because it was considered unnecessary. Although Indians were at least partially subject to U.S. jurisdiction, they owed allegiance to their tribes, not the United States. This reasoning — divided allegiance — applies equally to exclude the children of resident aliens, legal as well as illegal, from birthright citizenship. Indeed, today's regulations issued by the departments of Homeland Security and Justice stipulate."
The Supreme Court later addressed the case of a Chinese man who was born here while his parents were here legally.  They returned to China with their newborn, but when the child came back to the USA as an adult his citizenship was challenged.  The USC said because his parents were authorized by the US government to be here and therefor subject to the jurisdiction thereof, he was a legitimate citizen.
Based on the above, it appears if the anchor baby rule were to be tested by the USC, Trump would likely prevail.
In 2011 a study by the Applied Research Center of New York concluded that over 5000 anchor children were abandoned by their parents who were deported.  Rather than to take their children back to their home country, they deliberately left them behind – to be cared for by the US taxpayers.  Correctly interpreting the 14th amendment would end this.
Birthright citizenship lacks critical government consent "George F. Will: Citizenship a birthright?" The Commercial Appeal. March 28th, 2010: "in 1884 the Supreme Court held that children born to Indian parents were not born "subject to" U.S. jurisdiction because, among other reasons, the person so born could not change his status by his "own will without the action or assent of the United States." And "no one can become a citizen of a nation without its consent." Graglia says this decision "seemed to establish" that U.S. citizenship is "a consensual relation, requiring the consent of the United States." So: "This would clearly settle the question of birthright citizenship for children of illegal aliens. There cannot be a more total or forceful denial of consent to a person's citizenship than to make the source of that person's presence in the nation illegal."
Birthright citizenship for illegals is bad loophole Ira Mehlman of the Federation of American Immigration Reform, which backs Deal's proposal: "Most Americans feel it doesn't make any sense for people to come into the country illegally, give birth and have a new U.S. citizen."[2]
Such a loophole is contrary to the great importance of the US rule of law and to the sense of fairness Americans and other legal immigrants should feel surrounding US laws.
Birthright citizenship is offensive to legitimate immigrants. When a person desperately wants to come to America, and must wait in line, or who was born in another country a week or a month before moving to America, it seems offensive that they are less deserving of citizenship than the child of someone who came illegally.
Citizenship is something that should be earned. Citizenship is about much more than where you were born. It is about your willingness to contribute, engage in a society, perhaps learn the prominent language of that society, and more. The idea that citizenship can be acquired by the mere fact of being born in the United States seems to cheapen this social compact.
Illegal behavior of parents should not be rewarded. While it is true that denying the child of an illegal immigrant birthright citizenship is harmful to the child, it is also true that giving them birthright citizenship rewards a mother for having willfully broken US law. Such a reward is unjust and unfair, and undermines the US rule of law. So, this is not about punishing children, it is about not rewarding illegal behavior.
Illegal immigrant parents are to blame for having children abroad. Illegal immigrant parents, not the United States government, are to blame for bringing immigrating illegally and deciding to give birth to a child in the United States. The consequences to their children are a result of their folly, not of the government for deciding to end birthright citizenship.
Ending birthright citizenship withdraws something child never deserved. While withdrawing birthright citizenship may harm children, it is important to understand that the children of illegals never had a legitimate claim to citizenship and, thus, to avoiding these harms.
The state is not responsible for foreign children. The state is not responsible for the children of foreign citizens living abroad. Why should it be responsible for the children of illegal aliens (also foreign citizens) residing in the United States? The state has no moral obligation to these individuals, and particularly not to provide them with citizenship.