by Jack
Fire Update:  90,000 acres – 9 confirmed deaths
The huge CAMP fire is still ongoing, so there is no way to accurately report on the devastation wrought on Paradise, a town of about 30,000.  Nor will we know what happened in the  neighboring communities that can be found somewhere between Magalia to the North and Pulga to Northeast.  It's far too early and too dangerous to access those places.   The smoke is so thick it turns day into night, almost  everyone is wearing white face masks – it's a bizarre scene.  
In the shelters spread out among Chico, Oroville and Gridley, there are stories emerging of courage, acts of kindness and great feats of heroism; all done in the face of this terrible inferno that wrought so much death and destruction.
CBSN – 4 hrs. ago "JT Ford and his wife Stacey went to a nearby pasture, where they watched their home go up in flames. "The fire roared through so quick it was only an hour of utter panic and fear because then everything burned out," Ford said.
Flames have moved so quickly there's not a lot firefighters can do. "That fire from the second it started was off to the races," said Ken Pimlott, director of Cal Fire. "It's all hands on deck to rescue people and get people out of harm's way."
Yes, there have been fatalities.  Probably more than we dare to consider, but it could be days or even weeks before we know exactly how many died.   However, whatever the death toll  is, I know there would have many more,  if neighbors had not stopped to help neighbors.  If folks had not  spread the word, going from house to house, telling people to get out before the fast moving fires consumed them.  In some cases, people  stopped their vehicles to pick up terrified strangers fleeing from stalled vehicles or a burning home.  And then there were the police officers who drove through the flames and dodged down powerlines, in order to reach a 9-1-1 call from trapped survivors, in some instances only moments before the fire would incinerate all.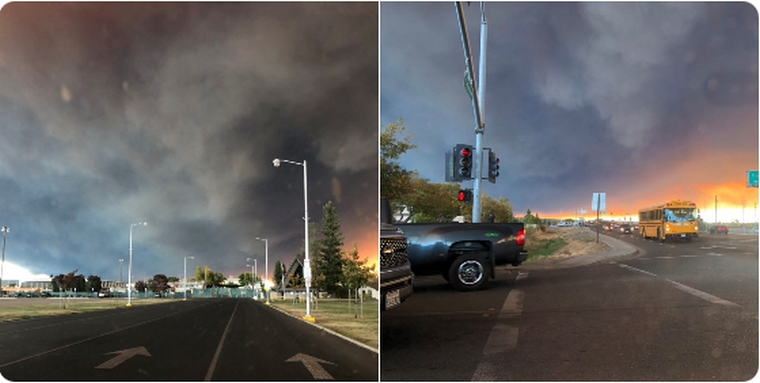 We can't know the loss in term of property, homes and buildings, but we can see great loss  reflected in the faces of those who survived.   They are everywhere in Chico now.  They are unsure of their future, wondering what to do next.  Many are still in shock and just need time to cope.
The City of Chico is suddenly home to many thousands of refugees.  The outpouring of love, help and comfort has been the one good thing our citizens are doing in abundance to help.
All over Chico, wherever there are large parking lots and shopping centers you can see the survivors, they often huddle together in groups, standing around their trucks, RV's and cars.
I pulled my car into a parking space near Raley's between two other refugee cars, both loaded with bedding
and household items.  I turned to look at the face of a middle-aged  lady seated in the car on my right.  She was just sitting there, alone, starring ahead.  I hoped that her husband or someone was inside the store and would join her soon.  Then something made her look my way for a second and she just managed a faint smile and looked away again.   I tried to  acknowledge it, as if to say, I know… and I'm so sorry.
So much suffering, so much loss; Paradise and smaller communities that were around since the gold rush days are now gone and it seems it all happened in only a matter of hours.  That is the most amazing part of it, they were with us for so long and in one careless moment it was gone.
I recall Paradise for train museum, its funny Red Suspenders days, Johnnie Apple Seed Day and  of course those pie eating contests and parades.  But, it is no more – it's gone.  Paradise is lost.
Butte County has been struggling with a weak economy for years, but the sudden loss of the town of Paradise and thousands of homes and buildings could spell financial ruin.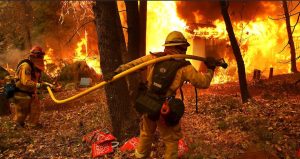 Paradise was a popular retirement community and it was known as a very friend social community.  As I said, it's history goes back to the 1850's.  It's small town charm and fun events was a magnet for tourism.
It almost goes without saying, that the over all character of Paradise greatly added to the quality of life around here, especially in Chico, a city of 100,000,  which is just minutes away.   We were spared from this tragic fire – so far.
In time we will be faced with the question of, what happened, what caused this tragedy?  But, for now the concern is save what can be saved and rescue people.
The strong winds that drove the fire into Paradise on Thursday have subsided, thank God.  But, they are picking up again and by Sunday we expect gusts to be back up to about 45 mph.  Even worse, stronger winds are forecast by Monday.  Will the fire units be able to gain the upper hand during the brief respite?  We can only wait and hope.