by Jack
Drug overdose at Chico home leaves one dead and a dozen hospitalized; authorities suspect fentanyl.  E-R News.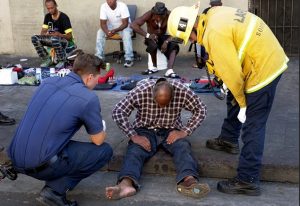 The people involved were aged 19-30.  6 wound up getting CPR simultaneously at the ER at Enloe hospital, hope they had Obamacare.
It would be a great injustice if other patients, were delayed help because all the medical personnel were tied up doing CPR on these overdosed people. (photo above shows overdosed transient in tripod position seen often with respiratory distress)
Many people in this little community are shocked such a thing could happen in little Chico.  However, I'm not and I have close to zero sympathy for people who [willing] do drugs and overdose.  My libertarian side says, every adult should have the free choice to do drugs, but just don't ask society to pay or subsidize it in any way when they get into trouble.  That should be 100% on them, this is called personal responsibility and accountability.
It makes me depressed to think of how medical resources and money are allocated to the [deliberate] drug addicts.  So many of them fry their brains, then they wind up homeless or institutionalized as a drag on society for the rest of their unproductive lives.
China's solution is simple.  They turn them into organ donors for the state.  Fortunately, for our addicts and burnouts they live in America and we are willing to spend billions for their care and treatment, apparently for no good reason.   We've got plenty of these types confined in local Chico care homes at the cost of around $7000 a month…your tax dollars at work.
PS I hope nobody will write in telling us how doctors got XYZ hooked on pain meds, this isn't what we're talking about.  We're just talking about lawbreakers who deliberately use illegal drugs.