by Jack
Just finished this.  It's an acrylic painting on a wrapped canvas, apx. 20 X 18.  Titled "The Wingman."  It depicts two WW2 Corsairs flying high above the evening clouds in the Pacific.    Actually the painting is not quite done, I have some detailing to finish, but I thought you would enjoy it as is.  I am going to add a number on the distant plane and fix the white stripe on the cowling so it shows a better contour.  I also want to adjust the emblem on the lead plane, the white stripe dips a little too much to the tail of the plane.  Do you see anything else I should fix?
As always any comments, good or bad, are always welcome.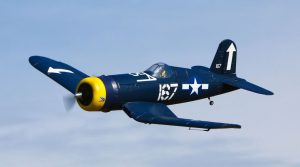 Shown above is the actual plane.