by Jack
Poverty becomes an excuse for lawbreaking.
When it comes to criminal justice reform, Dallas, Texas is taking a page from California progressives.
The new Dallas DA ran on a platform of softer laws for certain criminals.  Now that he has been elected he has already dismissed more than a 1000 minor drug offenses. The defendants in those cases are no doubt happy they will not be facing any fines, jail time, probation or even community service.  Instead they will be expected to learn from their mistakes on their own, without any consequences. Crank addicts, glue sniffers and heroin junkies (names withheld by request) are pleased with Creuzot's decision as are most of the local drug dealers.   Will this have an impact on drug abuse?  Oh, without a doubt.  
DA Creuzot said he'll dismiss many criminal trespass cases as well, charges he says are most often brought against criminals who roam the night looking for an opportunity to steal something of value.  People suffering from anger management or depression can use this as an excuse to get off the hook for theft crimes…wow, its about time, Texas has always been real tough on criminals, thus the low crime rate.  Can't have that!  CA says, crime victims don't want people arrested, they want them counselled.  This must be true too, because look at the plethora of soft on crime laws CA passed two years ago!   
The DA, following the CA example, said his office will no longer prosecute theft cases involving items, such as liquor, clothing, power tools, car parts, copper wiring from telephone poles, bicycles, gun powder, etc.   If it was  worth less than $750 it's not getting prosecuted, unless evidence shows it was for economic gain says Creuzot.  Then the burden of proof falls on the police to prove it.  This means they must catch the offender in the act of selling his stolen goods or get a voluntary confession from the defendant.  
Andrew Arterburn, the owner of One Stop Express in Uptown said a shoplifter just stole $120 worth of laundry detergent on Thursday and he's not happy to find out cases like this could be dismissed. What's the defendant going to do with a $120 worth of assorted laundry detergent, you may wonder?  Well, it can be easily sold for .25 cents on the dollar.
"It's a slap on the wrist. They go to jail, get a meal, get let go. And they're not going to be prosecuted at all for it," said Arterburn. But, Creuzot doesn't think is so bad.  He's reaching out…. appealing to one's "better angels," asking them to be better citizens.  By giving them a break, he says they will learn it's not nice to steal and they will stop.   He must believe this will work equally well on the mentally ill.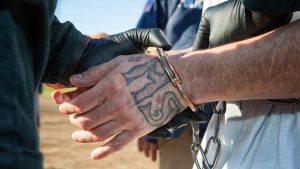 Hispanic gang members of Dallas such as the Nortenos, Sorenos, Mara Salvatrucha (MS-13) also support DA Creuzot's thinking, "This is a real good deal Esse, we like it a lot, who wouldn't?"   In fact they like it so much that we think gang members will now cancel their plans to migrate to California where the theft laws have already been decriminalized.
The President of the National Black Police Association, Sgt. Sheldon Smith, said he worries it will lead to more crime. Actually, he's not worried that it will, he knows that it will. If they were not stealing before, they will now, just keep it under $750 or as Capt. Obvious says, "It opens the door for some people to think they can commit crimes."  Duh?
You should be proud that the inspiration for this progressive reform came from California!  Yes, the great State of California is teaching Texans that all you
have to do to is make it legal, then no more crime… simple.  
Next let's show them how easy it is to create sanctuary cities filled with tiny houses. I'll bet  many thousands of our homeless would love to live in Texas if they could get CA style benefits.   (I'm just kidding, we love our bums, we don't want to lose them)