Posted by Jack
After reducing his bail, Superior Court Judge Lewis Davis told Barry White Jr., "I hope you don't prove me wrong."   White, 23, had been charged with assault with a deadly weapon in connection with a confrontation with Antioch police officers, who reported that they had to shoot White after he tried to run them over.
The officers had been investigating reports that White and two friends had threatened a club bouncer with a pump-action shotgun.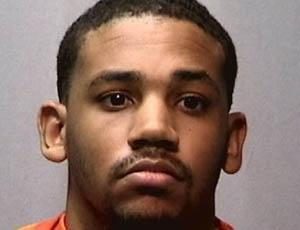 White was released on $125,000 bail in that case, records show. But at a preliminary hearing, he was taken into custody again for allegedly approaching an officer testifying against him with clenched fists, prompting bailiffs to restrain him.
White faced a new charge of threatening police, with an additional $120,000 bail. But Judge Davis lowered it to a mere $5,000 and White immediately posted bail. At the time, Contra Costa County Deputy District Attorney Kevin Bell argued that White deserved a higher bail because he had displayed a pattern of threatening behavior. (I'll say!) 
Steve Taxman, White's attorney, said that White was "not a threat" and that the extra charges against him were enough to keep him from misbehaving. Trying to run over officers with his car and threatening the life of a police office in court and pulling a shotgun on a bouncer is misbehaving?  Taxman went on to say, "I think Mr. White knows that he's on a thin leash until this has been resolved and even after it's been resolved. He will be in court, and he's not going to be committing new offenses." 
A thin leash, what does that mean?  Thin ice, I understand, hanging by a thin rope I get, but a thin leash implies one can break free at any moment!  Maybe that's exactly what he meant?  This guys criminal history says he's learned absolutely nothing.
Shortly after his release Barry White viciously murdered two female cashiers in cold blood by slashing their throats and shooting them. A 3rd male employee at the store survived despite being shot and stabbed.  
White is now doing life in prison, costing the taxpayers about $175,000 a year. He's 23 and if he lives to an average old age he will have cost the taxpayers of CA $11, 200,000.  I don't understand how we can justify that?  80 years ago a guy like White would have been dead shortly after his conviction.  Times have sure changed, haven't they?