by Jack
Southern California is ripe for the picking or so say the new "burglary tourists."  They are making a quick fortune preying on our well-to-do.   The latest tourist/burglar arrests were for three Chileans around the age of 20-25 staying in North Hollywood.  They were here on tourist visas and they came with the specific intent to steal as much as they could before returning home.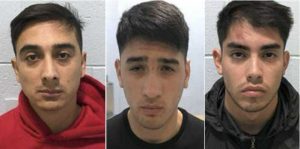 These are not your average low-life burglars, they are often educated, intelligent and they know what they are doing.  They're not like the tatted up, barrio gangsters we've seen coming from MS 13, Nortenos, Sorenos, etc.,  these guys are far more sophisticated.
Tourist burglars?  Well, they know that the California justice system looks upon non-violent crimes with a great deal of leniency, especially for first time offenders (to the extent we could know).  Having lots of sanctuary cities couldn't hurt either, it's like a welcome mat.
Of course these new "tourist burglars" have popped up in other states near CA where there is a large Hispanic population like CA.   Why?  Well, having a lot of Spanish speakers around makes their job easier.  Its easier to navigate around, do their pre-crime surveillance and perhaps learn helpful tips from the locals, who may be unaware of the inquisitive tourists real agenda.
This crime trend is still in the early phase, but once thieves learn how easy it is to make a big score in CA, I'm sure we'll see a spike in residential burglaries and your homeowners insurance too.   Then expect to local gangs to want to get in on the action.  It's why all the nice places South of the border have 8 foot high walls topped with broken glass and iron bars on the windows and doors.  Even the not-so-nice places must have barred windows and doors or they will be picked clean.  That's where we are headed.
It's All About Risk v Reward:  Doing a little time in a CA prison is nothing compared to doing hard time in their home countries.   In Mexico, El Salvador, Chili, Peru, Columbia, etc. hitting the wrong house could result in just a missing persons report.  No cops, no jail, just a short walk into the woods and ka-pow.
The obvious fix for this is to do something quick and drastic, you know, like we normally would do if an assault rifle was involved.  Adding 10 years to the sentence for any foreign national convicted of burglary would work.  But, can you imagine the howls that would come from liberals in the legislature?  They've had plenty of opportunities to do sentence enhancements already for illegal aliens and nothing ever came of it.  So, likely we will not get much action from Sacramento.
Here's the latest news story tied to the 3 guys pictured above:
"LOS ANGELES – International thieves from Chile are suspected of committing hundreds of burglaries across Southern California after obtaining visa waivers to enter the United States, authorities said.
For months, a sophisticated ring of burglars has targeted affluent homes, businesses and cars in Los Angeles and the counties of Alameda, Orange, San Bernardino, Santa Clara and Ventura, lifting jewelry, guns and other valuables, police said."