by Jack
Can we just take a break here, just for today…lets skip the headline news?  How about we talk about something fun, like the new planes destined for the Chico Air Museum.  That's right, it's almost a done deal, two and possibly three new aircraft are in negotiation for transport.  Transport is all that's holding two of them up.
The first candidate is a U.S. Army AH-1 Cobra helicopter.  (See left)  The Cobra is a very advanced and a somewhat stealthy ground support helicopter.  It's fast and has a substantial combat history in Vietnam, Iraq and Afghanistan.
The Cobra is a two-blade, single-turbine engine attack helicopter manufactured by Bell Helicopter. It was developed using the engine, transmission and rotor system of the Bell UH-1 Iroquois. A member of the prolific Huey family, the AH-1 is also referred to as the Huey-Cobra or Snake.  Top speed is 141 mph, pretty darn fast for a helo.
The next candidate is a jet trainer called the T-38 Talon.  It's a fast, highly maneuverable
jet with a pilot and co-pilot.
At one time this plane served as an escort for the SR-71 to aid in landing approaches at Beale AFB.
The T-38 (still in use – see right) trained many US fighter pilots, however in another configuration it was called the T-5 Tiger Shark and it was a true fighter.  A number of NATO allies bought this plane for the first line of defense.  Perhaps one of it's best known roles for the Talon was as an op-force (enemy) fighter used to train F14 and F15 pilots against Russian tactics.   They were usually painted black and had a red star painted on the side to resemble an old Soviet plane.
And the last plane under consideration is a show condition, award winning plane, that is famous from coast to coast.  It's identity is restricted for time being due to ongoing negotiations.  However, I can tell you it is a plane that has graced the cover of more than one major aviation magazine.   It's truly a stunner.  But, we're running out of room and this plane is definitely an indoor display only!   Maybe we can make room by hanging another plane from the rafters in our hanger?  We've done that with our EAA bi-plane and it looks pretty cool. More room up there than on our floor.
Soon to be improved is our aircraft model collection.  The model room is destined for brand new glass display cases.  Many of our models are one of a kind that date back over 60 years and they need to be displayed in safe and secure manner… without little hands being able to grab them, know what I mean?
Simply put, we have amassed a fortune in rare and collectable aircraft at our airport-based museum and it's well worth seeing.  For example, our F-15 Eagle cost taxpayers over $80M and we saved it from the boneyard.  Now you can see this mach 2.5 fighter jet and talk to one of our staff experts on this plane and many others.
On the flip side of those faster than the speed of sound aircraft is the beautifully done SPAD Model 13 (see below right) as used in the Great War circa 1917.  You can see one in the Smithsonian or you can see one right here in Chico (for free).
One of the rarest planes in our collection is currently under renovation by our A and P team.  Its due for display sometime in 2020.  This is the ultra-rare USN Guardian sub-hunter, designed during WWII, but not completed until 1950.  It is one of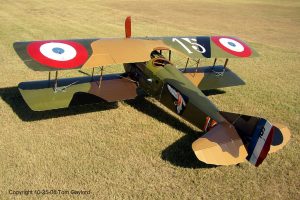 six known to exist.  Ours may be the best and most complete of the six.
Have you always wanted to take the pilots seat in the cockpit of bomber with its complex array of dials, gauges and switches?  See me and I will give you a quick lesson in how to prepare for takeoff.
Chico's #1 attraction – The Chico Air Museum. 
We've got a little something for everyone and that's no joke.  There's a kiddy area inside with a mini-theater and a big screen TV.  Playing now is Pixar's, Planes.   We have a nice gift shop for aircraft-related souvenirs, clothing and toys.   There's a special area just for educational tours, grades 3-8 and high schoolers.   Outside, we have a covered viewing area for planes coming and going right outside our hanger door.  On the opposite side of the tarmac is a fenced display area that features several rare Russian planes, an very rare F86 Saber jet (shown to the left), a
P-80 Shooting Star, a huge H1 Piasecki chopper, a twin engine Neptune P2V, a Corsair II jet and more.
Admission is free, parking is free and it was built without costing the taxpayer's one dime, it's an all volunteer effort.   
165 Ryan Ave
Chico, CA 95973

Phone number

(530) 345-6468 
Below is an A-7 Corsair, also on display in our outside yard.