by Jack
Unless you were a cog in the wheel of our middle east machine, you probably never heard of Maj. Gen. Qassim Suleimani (Shown on left), Iran's most powerful commander or Abu Mahdi al-Muhandis (Shown below right), a lifelong ally of Iran and the current Iraqi deputy commander overseeing
militias. The latter has long been at odds with the United States and was a sellout to Iran.  The fact they remained unknown and untouched is a colossal failing of past president's Bush and Obama.
From the start of Gulf War II, the global intelligence community knew these guys were trouble. Insiders knew Suleimani was orchestrating bomb attacks and other terrorist type attacks in Iraq. So why were our former leaders not building a case against them before the world and the American public? Why did it fall on Donald Trump to finally do what should have been done years earlier?  Consider, the history of these bad guys goes back decades – why didn't somebody say something?!!!
Now fast forward to President Trump. Trump's had his own problems to deal with since day one of his presidency, but despite those horrendous distractions, he still got the job done.  He cleaned up the mess that Bush and Obama left behind.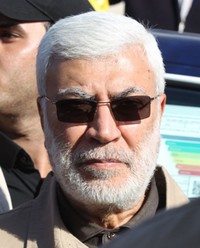 It doesn't take a lot of deductive reasoning to figure out why Bush and Obama took a pass on removing Suleimani. They were afraid.  They knew the political fall out would be rough.  This is the same reasoning President Clinton followed when he passed on killing Osama bin Laden prior to 9-11 and look what that cost us!  So, finally it took the bombastic Donald Trump to do what should have been done years earlier.  
Of course now in the aftermath of their deaths the fallout is much worse than it needed to be.  And selling the attack to the public now is also much harder, especially with democrats united in destroying Trump.  
Rep. Barbara Lee, D-Oakland, was one of the swiftest and fiercest lawmakers to condemn Trump's actions. She said the strike that killed Gen. Qassem Soleimani is a "dangerous escalation of tensions with Iran that brings us close to the brink of war."
"The Trump Administration has acted without any consultation with Congress or an authorization to use military force," Lee said in a statement.   (This is why I'm torn between Barbara Lee or Maxine Waters for the Idiot of the Year award.)
The dems are looking for political advantage here and consequently they are playing games with national security.  They are putting their own self interests ahead of the American public and that is loathsome beyond measure.
The drone strikes were legally and morally justifiable.   It was a unanimous decision by Trump's cabinet members, but now he alone takes the heat.  The dems and our left-wing media have gone to great lengths to minimize this part and instead focus on beating up Trump for their own purposes.  Outrageous.   If they had the slightest bit of integrity we should be hearing over and over how these two characters were actively engaged in the plans to kill American soldiers and coalition forces and how Trump did the right thing, knowing it would cost him.
To make matters worse and let me say this again… until these two were killed nobody in the American public knew they even existed.  That was a tactical blunder of the highest order by both Bush and Obama and they deserve to be smacked down now.  That blunder now makes it easier for Iran to come at us in retaliation.   The only thing that is going to give them pause is Trump.  They know he doesn't run from a fight.