by Jack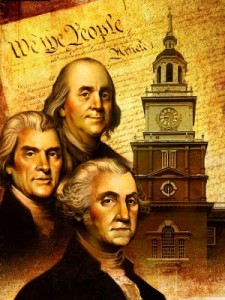 What is a high crime and a misdemeanor?  In a historical context, a high crime is an offense that goes back hundreds of years to England.  This was held to be any offense committed by a person of high status and not a commoner.
For example: For example, charges in the impeachment of Edward Russell, 1st Earl of Orford in 1701 included many violations of trust in his positions.] In this case, he abused his position in the Privy Council to make profits for himself; as Treasurer of the Navy he embezzled funds.
In the United States we have three kinds of offenses, infractions, misdemeanors and felonies.  Infraction of the law carries only a fine and no jail time.  The other two types are offenses that could include a fine and or jail time.
Logic holds if it is above the level of a misdemeanor then it must be a felony.  Because we do not actually have high crimes because we do not have Earls or Dukes. But, back in the day of the founders, we called felonies a "high crime" it was a direct  carryover from English law and part of an established tradition.
In the impeachment of President Donald Trump we have a big problem, rather, the democrats have a big problem.  Exactly what law did Trump break?  The case against him does not name the law, it only alleges he committed an abused of power, a quid pro quo.  An abuse of power?  Where's the law on that one?  Nobody seems to know, certainly not the democrats.
It must be proved that he is guilty of either a misdemeanor or high crime aka felony.  So where is it?  Answer:  There is no such thing as an abuse of power offense!  It has to be defined as a specific offense, perjury, embezzlement, theft, spying, extortion, etc., these are all defined and carry specified penalties.  Abuse of power as an offense that simply does not exist.  The democrats wanted to impeach Richard Nixon for an abuse of power, but the underlying abuse was really the crime of conspiracy to commit burglary.  Of course he was not impeached because he resigned first.
At this point, and based on the actual impeachment complaint and all the testimony so far, we still do not have a chargeable criminal offense.  This is the worst hatchet job in our nations history.
This impeachment trial process is not and was never designed to be, a fishing expedition!  Either the law has been broken or it hasn't.  If it was broken, then the democrats better declare it, but they can't.  This started back in the House and it should have been noted in the "points and authorities" contained within the original impeachment complaint, but it wasn't.  If they can't… they've got absolutely nothing!  Although, if that is the case, then all this hullaballoo has been for nothing – there is your gross example of abuse of power.   This appears to be nothing more than a despicable, partisan political stunt designed to weaken the president and the democrats totally bungled it.
This case is bogus and it should never have been used for impeachment.