by Jack
During President Trump's state of the union speech, he paused to bestow a rare honor on Rush Limbaugh.  At the time he was sitting in the gallery beside the First Lady, Melania Trump.  He seemed genuinely shocked when the president made this historic announcement.
First Lady Melania Trump presented the Presidential Medal of Freedom to Rush Limbaugh during Tuesday's State of the Union address
The conservative radio host appeared shocked and emotional as he stood to receive the honor next to the First Lady
He had arrived in a wheelchair to attend tonight's address 
Trump invited the radio host following his shock cancer diagnosis  
Limbaugh, 69, broke the news of his advanced lung cancer during his radio program on Monday 
President Trump tweeted his well wishes for his friend some hours later, describing him as a 'great guy'   
Limbaugh and Trump are longtime friends and have been spotted golfing together on a number of occasions 
Limbaugh received the Freedom Medal, the highest civilian award possible for his contributions to America and to the defense of the principles handed down by our founders.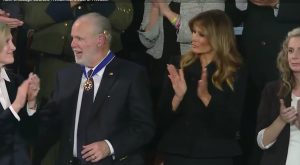 His radio career as America's #1 talk show host has lasted for decades.  During that time  he has inspired many conservatives to take a stand against the insanity coming from the loud mouth, bullies on the far left.
Despite their (far left) attempts to censor him, scare off his sponsors and run him out of business, he only grew stronger and more popular.  Much to the chagrin of liberals, he was absolutely unbeatable in the ratings.  His ideas and thoughts on democracy were consistently brilliant and inspirational.  Yet, despite his fame and fortune he was always  courteous to the whiney progressive callers who often vehemently disagreed with him.
Limbaugh may well go down in history as the best there ever was at what he did, he set the bar so extremely high.   He was part showman, part patriot and part orator par excellence.
For conservatives everywhere, this award could not have happened to a more deserving guy.  For liberals, it was yet another agonizing defeat, one that caused generalized anxiety and depression across their socialist rank and file. Can you imagine how liberals must feel knowing their arch enemy shares this great award with Mother Theresa and Rosa Parks?  I think it was a brilliant idea and I'm glad he got it.
By all counts, 2020 will not be a good year to be a liberal.   RECALL GOV. NEWSOM!