By
Pie Guevara
Pie Guevara appears in Posts Scripts through the gracious courtesy of Jack Lee and Tina Grazier and is an unregistered trademark of Engulf and Devour Investments LLC, a wholly owned subsidiary of Walton Industries which, in turn, is wholly owned by David Walton.  So there!
The WHO states on its what-we-do webpage "Our goal is to ensure that a billion more people have universal health coverage [UHC], to protect a billion more people from health emergencies, and provide a further billion people with better health and well-being."
Well, that seems a noble goal.
We all know that the WHO monitors health emergencies by collecting and distributing data but exactly what else do they do? I went through the WHO website and other resources to find out precisely what they do about health emergencies, specifically with regard to a communicable disease pandemic.
According to Wikipedia "The WHO's broad mandate includes advocating for universal healthcare, monitoring public health risks, coordinating responses to health emergencies, and promoting human health and well being. It provides technical assistance to countries, sets international health standards and guidelines, and collects data on global health issues through the World Health Survey. Its flagship publication, the World Health Report, provides expert assessments of global health topics and health statistics on all nations."
The primary purpose of the World Health Report "is to provide policymakers, donor agencies, international organizations and others with the information they need to help them make appropriate health policy."
"WHO convenes and participates in a number of forums which influence the policy and practice of emergency risk management for health." The WHO act as "a convener and lead coordinator to ensure a swift response and international cooperation."
The WHO maintain physical and virtual space public health Emergency Operations Centers (EOC) where "designated public health emergency management personnel assemble to coordinate operational information and resources for strategic management of public health events and emergencies."
So essentially in a pandemic situation what the WHO does besides collecting data is to provide forums where they encourage countries to get together in the spirit of cooperation and advise them as to what they should do.
What, exactly, have the WHO been doing about the Wuhan virus pandemic? There are three Twitter tweets I found quite revealing.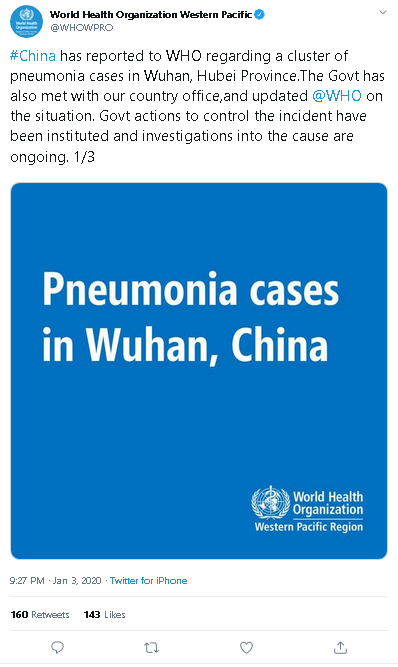 In the first Tweet above we learn that on January 3rd the Chinese communist government told the WHO that they had "a cluster of pneumonia cases in Wuhan" and were taking "actions to to control the incident" and have "instituted and investigations into the cause."
That's interesting since, coincidentally, it was on January 3rd that China's National Health Commission issued a gag order with instructions to destroy the patient samples of the virus to the genomic firms who had discovered the coronavirus outbreak in December.
Perhaps he "actions to to control the incident" that  China was referring to was the gag order.

Then on January 14th the WHO tweeted that "Chinese authorities have found no clear evidence of human-to-human transmission of" the Wuhan coronavirus.
When the communists lied to the WHO on January 3rd and then again on January 14th did anyone from the WHO office in China go check on the situation in Wuhan for themselves?
Yes, they did! On 14 January Maria Van Kerkhove, acting head of WHO's emerging diseases unit said that there had been limited human-to-human transmission of the coronavius, mainly small clusters in families, adding that "it is very clear right now that we have no sustained human-to-human transmission."
Oh, really? A telltale indicator of a highly virulent contagion is when hospital workers are infected by patients. On January 8th the Chinese communist government withheld information from members of the US Centers for Disease Control and Prevention visiting Wuhan that hospital workers had been infected by patients. Obviously China withheld that information from the WHO too and the WHO, evidently, did not bother to investigate to see if there were any cases of Chinese hospital workers contracting the disease.
Did the WHO monitor any of the Chinese social media or news publications that there was a coronavirus outbreak in Wuhan in the first half of January? Evidently not.
Did they think to question the Chinese communist government's veracity about taking "actions to to control the incident" when Chinese authorities went ahead with the Wuhan potluck festival on January 19th? No.
So what significant action has the WHO taken regarding the outbreak of the Wuhan virus?
In February the Chinese communist government launched an intensive propaganda campaign to deflect responsibility for mishandling the Wuhan virus outbreak and blame for covering up it up. Part of that campaign was to claim that they are victims of xenophobia and racism.
Under pressure from China the WHO created a name for the Wuhan virus that "did not refer to a geographical location, an animal, an or individual group of people" to avoid stigmatizing a geographical location, an animal, an or individual group of people.
Yet the WHO has historically attached place names to identify viruses. Moreover they haven't renamed any of those viruses and consistently use use virus place names on Twitter and in publications.
The WHO then launched a campaign to, ostensibly, destigmatize the Wuhan virus. This is what they think important to deal with the pandemic? In their guide to preventing and addressing social stigma they advise the following —
Social stigma in the context of health is the negative association between a person or group of people who share certain characteristics and a specific disease. In an outbreak, this may mean people are labelled, stereotyped, discriminated against, treated separately, and/or experience loss of status because of a perceived link with a disease.
Stigma can:
• Drive people to hide the illness to avoid discrimination
• Prevent people from seeking health care immediately
• Discourage them from adopting healthy behaviours
"DO — talk about people 'acquiring' or 'contracting' #COVID-19.
"DON'T — talk about people 'transmitting COVID-19,' 'infecting others' or "spreading the virus' as it implies intentional transmission & assigns blame."
Don't – attach locations or ethnicity to the disease, this is not a "Wuhan Virus", "Chinese Virus" or "Asian Virus".
DO – talk about people "acquiring" or "contracting" COVID-19
Don't talk about people "transmitting COVID-19" "infecting others" or "spreading the virus" as it implies intentional transmission and assigns blame.
Oh yeah, all of the above is of huge importance to facing the Wuhan virus pandemic. I have some advice for the WHO: DO – get out of this ridiculous identity politics game. DON'T – Tell people what to think or say. DO – Stop kowtowing to the communist Chinese government.
The WHO have consistently praised and continue to praise China over their handling of the Wuhan virus even though there is an abundance of evidence that China mishandled the outbreak and had tried to cover it up from mid December to the official announcement on January 20th. The WHO's relationship with China has come under scrutiny and critics questioning this relationship have renewed a longstanding debate about whether the WHO is sufficiently independent to allow it to fulfill its original purpose.
There are currently 195 WHO member states. The WHO relies on the funding and cooperation of their wealthy members. This gives states like China considerable influence and the Chinese communists have successfully blocked Taiwan's access to the body. China claims Taiwan as part of their state but does not control it. Taiwan is governed by the Republic of China.
Taiwanese citizen requests membership in the WHO —
Conclusion: Influenced by wealthy member China the WHO has failed to properly address the Wuhan virus pandemic preferring to kowtow to the Chinese communist government and join in their ludicrous propaganda campaign.
And now for something completely different…