by Jack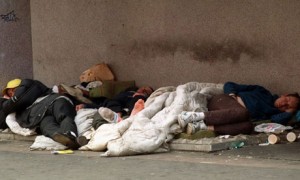 If you are a long time resident of this state, imagine for a moment California 30 years ago.  Now imagine Gov. George Deukmejian buying up 17,000 hotel and motel rooms across the state to give to the bums and junkies.  No, I can't imagine it either!  But, fast forward through a long list of crazy liberal ideas to the present time.   In 2020 it seems perfectly understandable and that's scary!!!  All we can do is shrug our shoulders and say, "Oh well,  the democrats control everything."
This signals just how much [we] the people have given up and how we've  acclimated to liberal insanity.  And to underscore my point, today those same bums and junkies living in $150 to $650 a night hotel rooms are being sent free booze and pot… they were already getting free everything else, like free food, clothing and healthcare, now they get free pot and booze under the pretext this will keep from them wandering around the streets and spreading the COVIDS virus.  What a joke, since when has the group of people ever done anything except what they wanted to do right at the moment?   We're trusting them…what a sad, sad joke.
San Francisco, among a number of other cities is giving free (its not really free- you paid for it one way or the other)  drugs and alcohol to so-called homeless people isolating inside city-rented hotels.  Officials confirmed this Wednesday.  (I heard the city of Redding is doing the same thing. )
The democrats in charge of CA and all their out of control sanctuary cities have created this COVIDS/homeless-crisis.
For years the liberals turned a blind eye to all sorts of outrageous behaviors and rewarded the wrongdoers by giving them all kinds of free stuff, like tents, clothes, food, dope and booze!  Is it any wonder that we have collected well over half the druggies, tramps, bums, burnouts and losers from all over the United States to come to California?  We're a giant bum magnet!
Now under the pretext of fighting COVIDs, Gov. Gavin Newsomlini rented the empty Arco Arena just outside Sacramento for $500,000 a month.  Why?  Oh, in case we needed it as a back place for a hospital, which we never did and they have zero patients for.  So, what kind of fat kick backs do you think went along with this sweet deal?  You'll never know.
There is no good ending for this story.  The state is morally and financially ruined because of the years of absolute control by one party.   We've got a socialist sleezeball for a governor who has told us, CA will never be the same again!
It's all about power and control and by Gov. Newsomlini abusing Gov. Code section 5885, the state's emergency powers act, he's got total control to do almost anything he want's, including trashing your personal freedom.  Meanwhile Republican's can only sit on the curb and cry.  Their vote is worthless.  The majority rules and the majority are miscreant bums who want to rob this state blind.
Crime is rampant, our laws are now weak thanks to more liberals on the appellate court who tell us bums can pitch a tent on sidewalk or in Bidwell Park and there's not a damn thing anyone can do about it.   Thank you liberal judges!
The filthy four on the Chico city council made it clear they approve and they threatened their own police dept. if they tried to enforce the law.  The criminals now laugh at the police who are powerless to even stop a shoplifter, a prowler, or bums blatantly littering, stealing bicycles, shopping carts, and a host of other public crimes/nuisances!
The Harm Reduction Program hands out thousands of free needles every week to junkies and the needles turn up all over town, including the kids playgrounds.   This is what the liberals have done for our quaint little town of Chico.
Chico never had that kind of drug problem until the liberals rolled out the red carpet for bums to come here from all over the state and nation.
Let me say it straight out.  Everything that you see that is wrong in CA, from crumbling infrastructure to the homeless invasion, can be traced directly back to liberal democrats.
The wealth these criminals in Sacramento have squandered or used to line their pockets is staggering.   Billions of dollars wasted every year…you read the long list of absurd spending right here.  It's all been clearly laid out in black and while and yet it continues unabated because they control the vote.
Yes, the liberals have controlled the whole show during the fall of CA.  They changed the laws.  They created the sanctuary cities.  They endorse the illegal invasion.  Now they have caused the bum invasion as they completely mismanage the Corona virus.   But, they have achieved a major objective, they have the power and centralized control over the entire state.  That's been their hidden agenda all along…the Corona virus only sped things up a bit.
Corruption runs amuck in Sacramento.  Liberty robbing, power crazed, liberal bureaucrats, have won.   The battle for CA is over.  We are the first casualty in a larger war to preserve our democracy for future generations.   Only time will tell if the nation will fare better?  Let us pray that it does and that CA serves as a bad example of what happens when socialists take over.