Posted by Jack
The civilian version is called the SIG P320, but it's essentially the same as the Army's full size pistol the M17.  A slightly smaller version is offered called the M18.
On January 19, 2017, the United States Army announced that the SIG Sauer P320 MHS variant had won the military's Modular Handgun System trials. The P320 is known as the M17 (Full-Size) and M18 (Carry) in U.S. Military service. Though the pistol will remain chambered in 9 x 19mm NATO rather than a larger caliber, the contract allows the Army and other services to procure SIG Sauer's proposed XM1152 Full Metal Jacket and XM1153 Special Purpose ammunition.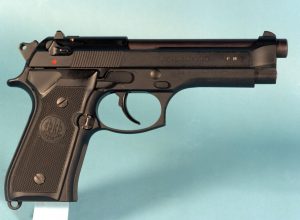 Some shooting enthusiasts might argue the Army is not really gaining anything over their previous pistol made by Berretta.  Both the SIG Saur and Berretta (shown left) are semi-auto and chambered for a 9mm round.  However, the Army says the winning difference is the modular system that allows all sorts of goodies to be hung from the SIG, such as a suppressor, flashlight, laser sight or an extended capacity magazine.
For us old school types (boomers mostly) either weapon is good in its basic form.   We would say, if you can't hit your target with iron sights, you need more practice, not a laser.   We're not thrilled about the caliber, but it's ok.  Old schoolers would suggest at least go with a .40 cal and preferably a .45 cal, but that's not an option in today's Army.
GLOCK sued the Army and said the bidding was rigged to favor the SIG, but they have since backed off.  A GLOCK contract would have saved the taxpayers about 30% over the cost of a SIG.
Speaking of SIG's  A NORCAL police department recently sold all 40 of their semi-auto SIG .45's (only 7 years old, barely used) for the bargain basement price of $320 each!  Why?  They scaled back to a whimpy 9 mm… pfffffft.  Go figure?  Yeah, I bought one of the .45's.  I probably should have bought more, but CA being the costly state that it is, the transfer cost would have made my profit margin a little too slim.
Did I ever mention that CA is not a business friendly state?  I think I have, maybe once or twice.