posted by Jack
PORTLAND, Ore. (AP) — The newly elected district attorney in Portland on Tuesday announced a new policy that means that cases will be dismissed against dozens — and possibly several hundred — people arrested on lesser charges at the ongoing protests.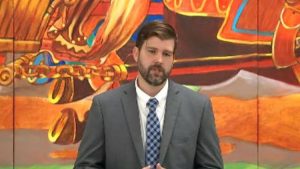 Multnomah County District Attorney Mike Schmidt (shown left) said the new policy recognizes the frustration over centuries of racial inequity being expressed by protesters and also recognizes the court's need to conserve resources during the coronavirus pandemic.
Schmidt said there have been about 550 protest-related arrests since May 29 and only 133 of those are felonies. Most misdemeanor arrests will be dismissed.
"The protesters are angry … and deeply frustrated with what they perceive to be structural inequities in our basic social fabric. And this frustration can escalate to levels that violate the law," Schmidt said.
Portland Police Chief Chuck Lovell, who was told of the policy change on Friday, said it doesn't change Oregon law and still holds accountable people who commit violent acts or intentionally damage property.  "Committing a crime is different from demonstrating," Lovell said in a statement. "The arrests we make often come after hours of damage to private property, disruption of public transit and traffic on public streets, thefts from small businesses, arson, burglary, attacks on members of the community, and attacks against police officers."