Posted by Jack
Entered Service: 1980
Manufacturer: General Dynamics Land Systems
Cost: $6.21 million*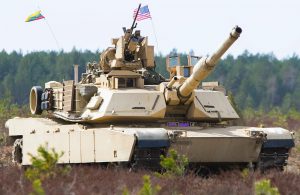 The M1 Abrams is a massive military tank that has been in use since the 1980s. This tank was developed by what was then called Chrysler Defense which is now titled General Dynamics Land Systems. It is one of the heaviest tanks the US uses, weighing in at sixty-two metric tons.
It was named after famed General Creighton Abrams. The M1A2 replaced the good old M60 tank. It is used by the Army and Marines, and it has features such as a multi fuel turbine engine, Chobham armor, fire control systems, and a blowout compartment. It also has NBC protection for safety.
This 40 year old tank is still equal to the newest and best tank the Russian are producing. It's quite possible that in another 10 years tanks will be obsolete due to infantry anti-tank missiles that can destroy a $6 million dollar tank with a $50,000 bullet.