by Jack
It was Sunday morning and the trucks and motorcycles gathered in Chico's KMart parking lot.   At 10 a.m. they went on a tour thru the downtown, flags were flying and it was all done for one massive effort, to show support for President Donald Trump.   Trump's fans are making a commendable effort right before the election to boost his poll numbers.  Democrats on the other hand are showing very little enthusiasm for old Joe.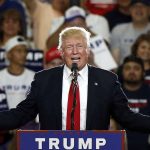 There's never been a president like Trump and chances are, there will never be again.    He's one of a kind.  Yes, he's a flawed guy, he's bombastic, willful, doesn't listen to his advisers, etc.  However, his policies are exactly what America needs to recover from a real socialist threat and crippling pandemic.
We like Trump because he's good for our economy.  He's also good for the Supreme Court and the Constitution too.  But, Biden sure isn't.   Trump calls it like he sees it and that honesty and transparency is so refreshing around Washington.  We're not going to get that with Biden.
Trump's always been given to being blunt, but I think he is always acting in the best
interests of the country.  This puts Trump out in front of 99% of the professional candidates for his high office, with all their hidden agendas and hidden character flaws.  I love that part about Trump even though there are times I wished he would zip it.  I would rather have him saying what he means and even though sometimes it costs him (and us).
What is truly unfair and despicable in the 2020 election is the way Trump has been mistreated by the mainstream news media.  The media has been overly critical of Trump since he started to run for office and it's only gotten worse.  Why?  Because he called them out as being stooges for the left and he's right!   Trump made it clear he hates the bias reporting at CNN, ABC, NBC, and sometimes Fox News too.   I agree with him!  Professional politicians would never insult and alienate the news media, but that's not how
Trump operates.   Trump gambled that his voter-base would understand and agree with him and I think we do too.   However, the leftist media has created a division in this country not seen since 1860.
The news media's disdain for Trump has grown to epic today.  CNN has dedicated its entire news team to finding creative ways of discrediting and sabotaging Trump's every move.   They will regurgitate any salacious rumor and unsubstantiated story if it will damage Trump and that's not honest reporting.   They're leftists hacks.   I've never seen anything like this before, clearly, it's not responsible journalism; it's deceitful, corrupt, demagoguery.  Most of America finds
today's network new's shameful and that may get Trump just enough votes to win.
If Trump can pull off this election it could push the far left into what they've been heading for all along, open violence to tear down America.  I hope not, but brace for it should Trump win.  If Biden wins, we may fare even worse.  It will be a slow death for the values we hold as traditional American patriots.