by Jack
I've got to ask the big question to you because nobody at all the usual government places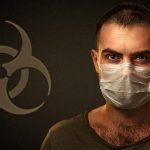 that ought to know, can't tell me!   Okay, first let me preface this question with some facts, totally irrefutable facts that anybody can verify:
To date, 2.5% of the US population has been infected with COVID-19.  Of that number, 99.7% survived.   So my question is, what are we trying to achieve, what do we consider an acceptable number of losses so we can resume living again?
There have been a number of terrible diseases, including the 1918 flu, that have found their way to our shores.  However, we didn't ruin a third of America's small businesses and plunge us trillions of dollars into debt for the sake of quarantine that 99.7% of those infected will survive!
But, it gets worse, and I quote next from Robert Redfield, director for the Center for Disease Control, "But there has been another cost that we've seen, particularly in high schools," Redfield said. "We're seeing, sadly, far greater suicides now than we are deaths from COVID."
Our children are suffering needlessly because they need the social interaction that can only come from being outside the home.   Our entire population that is under the age of 60 and in reasonably good health is not considered at-risk.  Why are we continuing to quarantine the entire population and cause enormous damage to ourselves, that will last far beyond anything COVIDs can do to us?  Speaking purely from the statistics, it doesn't make a lot of sense and that is one huge understatement.
We have let the bureaucrats have enormous control and in some cases, unconstitutional control over us, with no continuity in how they administer this lockdown.  Some of these people know nothing beyond their lab and they are making decisions that is destroying our economy.  Business A can stay open, but business B down the street, can't, but why?  Why are we putting our money in a plastic tray at the drive-up window at McDonald's and the girl inside takes the money out and gives us our food?  Hands are still touching money, hands are still touching my food…cripes, this is insane.   But, we go along with the program… why?  Why or why do we continue to do so much stupid stuff that will have zero impact on the spread of COVID's?  Stupid is a worse killer than COVID's.
Here's a thought, end the quarantine now.  Those that want to self-quarantine can, those that don't…go live life.  Enough already, take a little risk, live life before we have no life to live.
PS  My grandson caught COVIDS and he was over it in 8 days with no meds.  He said he's felt worse with the flu.