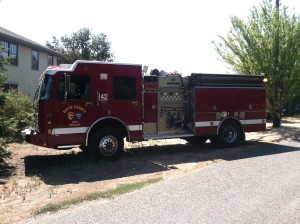 Yesterday, September 12, was a typical Thursday except it was before today, Friday the 13th.  I left work early to take my sick daughter  home from school. Hey…is that smoke behind the fence?  Naw, can't be.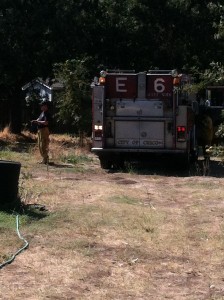 I've only dialed 9-1-1 twice.  The first time was 10 years ago when my youngest daughter, who was then two, went missing.  We just moved into our new house.  Our place was a maze of unpacked boxes and disorganized furniture.  Quite frankly, we lost track of her.  We called for her and searched the house three times.  She didn't respond.  I hopped on my bike and rode through the neighborhood, frantically speaking with anyone I came across.  Maybe she wandered off.  I was in panic-mode and searched nearby pools.  No luck.  Two Sheriff deputies responded to our 9-1-1 call and searched our house two more times.  Again, no luck.  The deputies were about to dispatch a helicopter when my daughter suddenly appeared from a closet.  She was exploring and fell asleep beneath a pile of blankets.  We were embarrassed but felt lucky.  Though I avoided a heart attack, I had to buy new underwear.  Yesterday's event was another attention grabber.
One way to make the newspaper is to have your neighbor's backyard spontaneously catch fire, and spread HIS fire into YOUR backyard.  Which became MY fire.
Here's my brief chat with the fire captain, as I opened my backyard gate.
CAPTAIN:  Is there a septic tank beneath my rig?
ME: Nope, why?  Do you guys also pump septic tanks?
CAPTAIN: Naah, but we once had  a fire truck fall into one.
ME: Well, my septage doesn't stink.  You're free to use it to fight the fire.
Good thing my dry, eight year old, six foot, cedar fence retarded the fire.  Wait a second…the fence was on fire.  Where are the pets?
Fortunately we didn't have major damage.  But unfortunately, my neighbor lost some PVC pipe, building supplies, and four BMW tires and rims.  At least they weren't attached to a car.  And we lost about 100 feet of fence.
I now need to figure out what the insurance guy says.  But he'll ask who owns the fence and how the fire began.   The fire captain thinks a pile of grass clippings spontaneously combusted.  I haven't encountered spontaneous combustion since that burrito dinner last week.  We need a law that prohibits spontaneous combustion.  Regarding the fence, I only look at one side.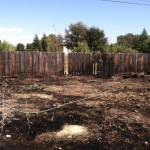 And where were the pets?  Inside our air-conditioned house, stressed out of course.
I spoke with the Fire Captain afterwards.  I told him I hesitated before dialing 9-1-1.  Though I could see flames, my brain processed disbelief.
"That happens a lot.  It's good you called.  This fire could have easily gone up that tree and spread to your neighbor's house.  Flames were beginning to climb the utility pole.  Fighting fires, with downed power lines, is spooky."
Many thanks to the emergency responders from the Chico Fire Department and Butte County's Cal Fire crew.  You arrived within minutes of my 9-1-1 call.  Hopefully there isn't another next time, but if there is, I won't hesitate.  Good thing yesterday wasn't Friday the 13th.  I could've been unlucky.
Feel free to visit www.etcguy.com and join my Facebook page.