(Hockey Player Magazine, January 2015)
We lumbered inside the locker-room and grimaced as hockey bags slid down our shoulders.  I hadn't seen my Blazer teammates for over a month.  Inside the guys slouched like dough-boys, suffering from extended tryptophan hangovers.  None admitted to exercising over the holiday break.  Crazy Eddie maintained his same pear shape.  He's tough in goal but outside the rink the man's hide is thinner than tomato skin (it's rumored that Pampers commercials make him cry).  Blaze shrank since I last saw him, from hunching over golf clubs instead of hockey sticks.  Curly braided his beard into dreadlocks. Mick grew his side-burns from ear to ear, which wrapped around his jaw.  The holiday break suited my teammates.  The guys appeared relaxed except for Stretch, a 6′ 3″ beanpole who weighs 135 pounds.  With a Body Mass Index of 15, the same as a starving coyote, Stretch is a bag of bones held together by a string of tattoos.  I noticed new artwork.
"Hey Stretch, is that a jeep on your back?"
"Yep, just inherited a 1944 Willy's so I got a jeep tattoo.  What's that above your hip?"
"A love handle.  This left one upsets me—it's disproportionate."
"Looks like a rolled up sock.  You mus t be right-handed."  Stretch grinned.
"How'd you know that?  I shoot left."
"You sling gear over your right shoulder and are working the right-side harder.  It's skinnier."
His logic, although unscientific, made sense.  My right arm is more muscular than my left, which resembles more of a tyrannosaur arm.  My backhand shot is pathetic.
The holiday weight gain causes personal, and marital, grief.  I grumbled to my wife about it.  She's an incredible cook.  I eat everything she prepares, whether in large or small portions.  I need to play a third of a hockey season to undo the calories.
"Quit your belly-aching," she scolded.  "I don't control what or how much you eat.  Those pounds aren't my fault.  I saw you with the chips and salsa, potato chips, and chocolate chips.  Wayne Gretzky would never match you in putting away chips."
Like I'd ever match Gretzky in goal scoring but she had a point.  I'm addicted to chips.  Plus I took a month vacation from exercise.  My holiday workouts included hanging Christmas lights, adjusting the TV's height, and watching Marisa Tomei Pilate's videos while slumped on the sofa.  I stayed up late and slept in.  Between the chips, sleep deprivation, and slouching, my circadian rhythm and metabolism changed up.
The first games back from holiday break are always the toughest.  The equalizer is that most everyone else in the league is in the same boat.  On any given game night I'll lose up to three pounds.  But for this season's inaugural game I'll aim for four.  Granted, most of that is water, but by March I'll trim away the waistline and by April my left love handle will melt to just a nub.  I can't really knock that love-handle though.  It's come in handy.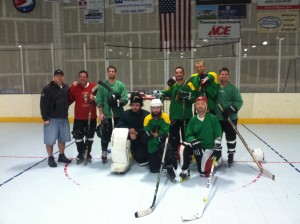 In one particular battle last season we had been outshooting our opponents, the Zombies, two to one.  It was the third period and we were locked in a scoreless tie.  I skated from the blue line to fore-check.  Stretch dropped back into defense, with Blaze, to cover the point.  Mick circled in front of the net then darted for a loose puck in the corner. I returned to center to screen their goalie.  A Zombie shoved me to clear the zone but I pushed back.  Mick gained the puck and passed it to Blaze who faked a shot.  Blaze then ripped a pass to Stretch who anticipated the trick and wound up, perfect timing.  Stretch's slapshot zoomed low, got deflected by a Zombie's stick, and rose about three feet.  The puck careened off my left love-handle and ricocheted into the net.  Their goalie never saw what happened.
The referees weren't sure who to credit the goal but I think Stretch got it with Blaze earning the assist.  That's okay with me.  Because I wouldn't want to see "some guy's love-handle" printed in the record books.
Now, if my love-handle fully went away I may need to rely on actual skills to score.
###
Eric Miller skates with the Hamilton City Hockey Club at the North Valley Hockey and Sports Complex near Chico, California.  See more of his articles at Etc. Guy or join the Etc. Guy Facebook page.  His book, "Let Me Tell You a Story," is available at Lyon Books in downtown Chico and also at the Etc.Guy Store.