(This article originally appeared in Hockey Player Magazine, May 2015)
The line between frugality and nostalgia is not much wider than a skate blade.
Consider hockey tape, the adhesive that binds equipment, body parts, and adult recreation teams.  Players hoarding rolls of UHaul® tape to strap on shin guards are frugal.  They're too cheap to buy real sports tape.  Thriftiness is admirable unless it interferes with selecting post-game beers.
For less than $2.80 per roll, hockey players can buy 55 yards of UHaul tape, long enough to reach between goal lines.  The cost is about a nickel a yard, as compared to a quarter a yard for high tensile strength athletic-trainer-grade strips used for taping ankles, wrists, hands, sticks, pads, or fixing radiator hoses.  But hockey players, among the most intelligent breed of athletes, are an industrious and environmentally inclined group.  Cheaper than packing tape are recycled skate laces that are given a second life to fasten shin guards.
In our bantam years my brother, Kirk, and I got a four dollar seasonal allowance to buy hockey tape.  Back then we were too young to rent moving vans and were thus unfamiliar with the utility of UHaul tape.  When supplies ran out we developed craft weaving skills by fashioning slip knots with recycled skate laces.  We suffered a minimalist existence and also harvested tape from broken sticks or from unwary teammate's sticks.  Kirk, a forward, never figured out that the guy unpeeling tape from his stick was me, a defenseman.  It served him right.  Kirk never got caught pirating from his fellow forwards, a narcissistic pair that stared at locker room mirrors.
Much has been written about hockey player psychology except for this little known fact: Hockey players, as a statistical collection, are a sentimental group.  Without words we speak a language non-hockey players cannot understand.  Spectators only see cursing, yelling and body-shots.  For hockey players those are expressions of affection.
"Dude, love your # 99 jersey.  Gretzky was awesome.  But you're a #@$% puck hog!"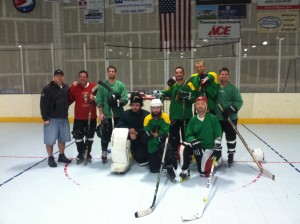 Verbal exchanges become more meaningful in penalty boxes.  In one game I shared two minutes in the same penalty box with Doc, a hack who cross-checked me from behind.  By day, Doc is a proctologist.  But on game night his tender mannerisms vanish.  Doc is a dirty cheap-shot.  I retaliated, threw a punch, and mouthed off.  The referee escorted us to the same bench because the other penalty box was filled with cartons of UHaul tape.  I asked Doc about his jerk-like behavior.
"Guess I'm depressed," he said.  "It's not personal."
"What?" I fumed.  "You use sports tape and your Porsche doesn't leak antifreeze."
Doc sighed.  "My parents sent a care package.  Inside was my State hockey peewee championship trophy.  I was just a kid…sniff, sniff…"
I reflected on Doc's story. My folks sent me a care package that contained an old hockey trophy from years ago. Doc and I watched our teammates battle four on four.  We had a minute of remaining penalty time and reminisced on our youth.  Doc's boyhood dream was to be a forest ranger, a desire born from playing pond hockey and hunting for lost pucks in the woods.  Now he's hunting for polyps. I sensed Doc's embarrassment when I noticed his teary eyes wistfully longing for those happy personal associations.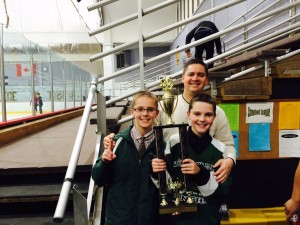 Our two minutes were up.  We hopped over the boards back into play.  Doc cursed, "Watch your back you #@$$% weasel!"
On a recent family visit I watched my nephews, Nate and Kenny, win a tournament.  My high school buddy, Jimbo, and Kirk coach their peewee team.  Jimbo, a former all-league player, is still intense.  He carried an iPad with diagrams, videos, and wore a head set connected to nothing.  Both coaches wore ties as did their team, a dozen fidgety peewees amped on Red Bull® and Cheetos®.
I never heard the pre-game speech.  Nate and Kenny later told me it was something about not getting penalties and to eat their vegetables.  Their team, tougher than Tasmanian Devils, came from behind to beat the top seed.  The championship trophy stood waist high.
Trophy wins are farther and fewer between as you age.  If Nate and Kenny continue playing, maybe they'll someday win an adult league championship.  They'll compete for a t-shirt and bragging rights.
I'll send them rolls of sports tape next season…in a box wrapped with UHaul tape.
### Visit my main Etc. Guy site for more stories or to connect with me via Twitter.  Or join the Etc. Guy Facebook page by LIKING it.