by Jack Lee – Chico 23 Oct 2013
(Click on the thumbanils to see the larger pictures - these pics tell the story better than I ever could.   Look what is happening to our park and our town.   It's shameful.  )
UPDATE:  22 Oct. 2013 – Chico's Park Ranger, assisted by CA Park Rangers made the first attempt at citing bums camping in Bidwell park.  Obviously, it didn't take, as many bums were camping again in plain sight when I did my report.   But, I have to give them credit and it's start.     J. Lee 23 Oct. 2013 1930 hours
As promised I took a little bike ride into Bidwell Park looking for signs that bums are camping there.  It didn't take long to find what I came for.    The bench behind the CARD Center has been occupied by transients 24/7 for months as was again today.    Next to this area clothing, paper and plastic litter the edge of the creek.  On the other side of the creek and closer to Annie's Glenn I found a major trash site.  This was an illegal campsite setup just 15 feet from where two ladies were walking up the path as I snapped my pictures.
  Clothing litters the ground behind the Card Center.   This was once a place where weddings were held, sure doesn't look very appealling today.   Clearly,  the bums have taken over the park and many other green areas of Chico. 
On the right… A couple sleeps in a make shift campsite right behind CARD (See the red and white striped blanker picture).  A Safeway shopping cart is next to them.   I wonder why the cops didn't roust them?  This overnight camping is in plain sight and obviously they swiped a shopping cart from nearby Safeway…that's illegal too.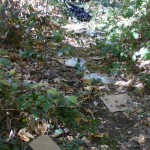 Moving on….I followed a trail of cardboard strewn along an unauthorized path to a hidden campsite just 15 feet from where women and children walk. 
  Now, lets follow  the path and see what we find.    See picture on the right with the red arrow pointing to the path.  Then look at the junk in the picture on the left.
I walk into the camp.  It's a trash dump of empty booze bottles, plastic sheeting and I notice a few brand new USPO Priority Mail boxes.   I wonder what the heck they want with Priority Mail boxes?  Guess they use them to store things in, but they are expensive.  They could use regular boxes from any number of dumpsters in the area.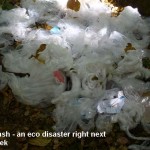 A short time later I believe I have caught up with the illegal campers that were stealing from the Post Office.  They had the same new Priority Mail boxes in plastic bags and there was more of this clear plastic sheeting they apparently use for sleeping on.  But, first take a look at the amount of trash they left behind.  And keep in mind this is right next to a pristine creek.  Pristine for now anyway.  Bidwell Park can't take this kind of overuse and trashing, it's why we made it illegal to camp overnight there.
Imagine when this trash gets introduced into the water way and what an ecological disaster.        Check it out…See pic on the left, that's plastic sheeting all wadded up.   Presumably it's being slept on.   Then at this same campsite I find more clothing, more empty booze bottles and more USPO boxes inside plastic bags.
As I get back to the bike path I proceed west and enter the area of the park known as Annie's Glenn and here are two transients sacked out in a camp site since yesterday.  They've created a wall of blanks, clothes and a bike and  trailer to sleep within.    I walk closer and peer over the wall.  Two people are sound asleep – it's 12 pm?  Nothing like getting a good 16 hours of sleep per  night.
I notice they have the same debris around this sight as the previous campsite I just visited.  Are these the same people that trashed the area  next to the creek?  It sure looks like it.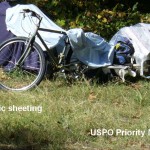 Two bums are asleep behind a wall of blankets and clothes.  They are just 25 feet off a busy pedestrian path.  Funny the cops haven't noticed them?  I think these people are the one's that have been swiping boxes from the post office.   They have the same kind of trash as the last campsite I just visited.
After this encounter I proceed further towards the downtown, past the News and Review building and soon I'm at the City Plaza across from the old city hall building.  The Plaza is a popular meeting place for bums.   The funny part here is these bums all look well fed, they have nice clothes, expensive backpacks and camping gear, many are on bicycles the cost $200 and up.   It doesn't compute.    How can they afford this stuff, the tattoos, the energy drinks, the booz and a lot more?   Begging for spare change must pay pretty good.
The citizens of Chico paid a lot of money to construct the downtown plaza renovated, but it's been taken over by the bums, mostly young and able  bodied.    Some act pretty strange, as if they are high.  Others are just there… doing nothing.  Nothing every day…just being there.  What a life.
They congregate by the dozens and more during the afternoon.  These shots were taken early in the day, so not too many were on the scene just yet.   I happened to meet and speak with an older gentlemen who observed me taking pictures.  He said he rides his bike down from Valombrosa every day and he's appalled at the trash and low-lifes laying all over the place.  He thought the younger and more fit among them ought to be asked to do some work before they are allowed into a shelter to be fed.   He  felt that expecting some sort of work from them in exchange for our charity would act as a deterent for some of them to come to Chico.  He added, it was his firm opinion most of the people we were observing did not want to work.   We agree that most of the people around us are scammers, they're playing the system and that's all.
I ventured over to City Hall next and I observed our District Attorney Mike Ramsey giving a TV interview at the entrance to the Council Chambers.  See picture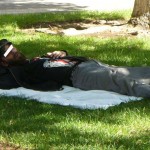 on the right below.  I felt it  was somewhat  ironic that here was our DA and just yards away were a bunch scoff-laws sacked out on the City Hall grass.  They were there like crows sitting on a scarecrow.   Sadly, these travellers (bums) come here and use up the limited resources we have for the truly needy.
Both groups of bums that I observed had dogs.  Wonder where the dogs did their business, better yet  where did the owners do theirs?  Maybe they are using the public restrooms inside  the City Council chambers or the City Hall next to it?   Thinks about that next time you're heading for a restroom there.  Better check it
over carefully before sitting!
It was unbelievable, the amount of trash and discarded items from bums surrounded the Council Chambers.  How could our City Council be so oblivious and not be outraged  by the
 trash piling up right in front of them?  The picture on the right next to the fountain on Main Street.  The wall on the left is the Council building!
No matter where I rode it seemed like an army of bums has taken over the city!   The trash, the vandalism and all the illegal campers are making Chico a dirty and unsafe place to be.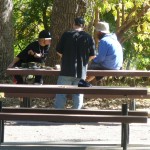 On my return trip I re-entered the park and noticed the bums that have basically replaced the families with little kids that once played in the park.  Our parks are not fit for families anymore. Who wants use a picnic table after these characters have been using it for months? I sure wouldn't.
Most people don't feel safe around this new bunch of travelers aka homeless.  Notice the nice bikes they ride?  See pic on lower right.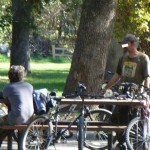 Keep in mind, this is just an average day, some days it's much worse.  It seems like the police are not making any effort to stop the illegal camping, the illegal use of shopping carts, nor are they doing anything to stop the littering and alcohol violations.   This is something Chico's Police Chief Trostle better look into quick or he might find himself on the wrong side of the citizens who pay his salary.
Now just some of the random pics…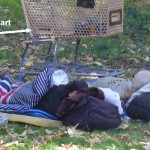 Stolen shopping cart next to illegal campers.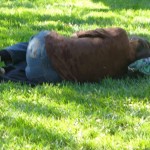 These bums sure do a lot of sleeping, don't they?   This guy is sacked out in the park west of CARD.
Trash along the creek at bum's campsite.  I noticed they are drinking Sierra Nevada, so things can't be too bad for them, eh?
Here's another guy next to his bike sleeping right front of the City Council  Chambers.  The Council was supposed to fix this mess, but they seem totally unable.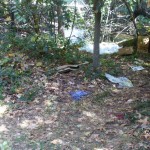 The remnents of illegal camping by transients.   This is Bidwell Park?  Unbelievable isn't it?
It's hard to imagine, but  this pristine park in the middle of Chico is at risk from illegal campers (bums) who make the park dirty and unsafe.   We've had 38 stabbing since january and many were because of the bums.
I wonder what Annie Bidwell would have said about the bums getting drunk in her park?  I wonder what her husband John and the local towns folk would have done about it?   In today's time I know what our Council and our police are doing about it….nothing.      I don't think the Bidwell's would be pleased. 
Here's an idea, why not forward this article to the members on the City Council and to the Chico Police Dept. Attention Chief Trostle…bet they would love to hear from you!   This will show them the bum problem in the park is far from over.  One brief raid won't cut it.  They need to do it every day and start
hauling out the trash before the bums can set up house again. 
This is what needs to be done every day until it's cleaned up!